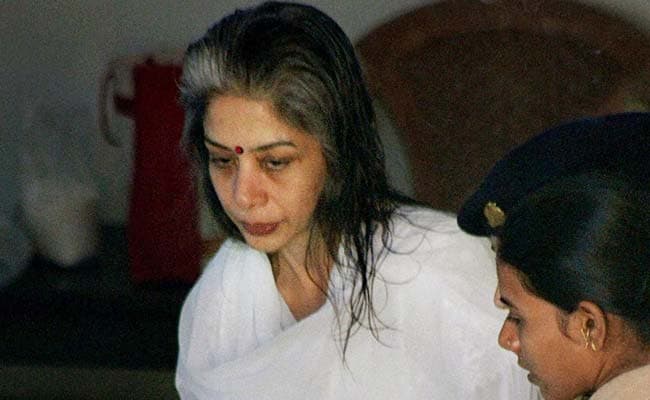 Highlights
Sheena Bora, 24, was killed inside a car in 2012, allegedly by Indrani
Driver, a co-accused, provides new details during questioning in court
Describes how Indrani strangled Sheena Bora, warned him to keep quiet
Mumbai:
Indrani Mukerjea strangled her daughter Sheena Bora and "sat on her face", her driver and
co-accused in murder
alleged today in a Mumbai court. She set her body on fire too, according to him.
"Indrani Madam sat on Sheena's face and said - here's your three-bedroom flat," driver Shyamvar Rai said during his questioning in the CBI court.
Indrani Mukerjea and her husband Peter Mukerjea
, former media owners, have been in jail since 2015 for the murder of Sheena Bora, Indrani's daughter by a previous marriage.
The 25-year-old
was killed inside a car in 2012
, allegedly by Indrani, her ex-husband Sanjeev Khanna and her driver. She was in a relationship with Rahul Mukerjea - Peter Mukerjea's son from an earlier marriage - when she was killed.
Indrani had claimed that Sheena Bora was in the US.
The crime surfaced three years later after the arrest of Indrani's driver Shyamvar Rai, who led the police to Sheena Bora's remains in jungles near Mumbai.
Indrani was arrested in August 2015. Three months later Peter Mukerjea was also arrested.
The driver claimed Indrani told him on skype that she wanted to kill both her daughter and her son Mikhail because "they are defaming me by calling me mother." Indrani had told the world that the two were her siblings.
Sheena Bora, she told her driver, had demanded a three-bedroom flat in Mumbai's upscale Pali Hill, a car and a diamond ring to keep up the charade.
On April 24, 2012, the three picked up Sheena Bora, who was given a cocktail of medicine and alcohol and was "sitting quietly with her eyes closed" in the backseat when Indrani's ex-husband grabbed her by her hair and Indrani strangled her, according to the driver. He said when he covered her mouth, she bit his thumb.
"...Indrani Madam was strangling Sheena with her hands... I could hear Sheena gasping and making gagging sounds. After a while, everything was quiet. Sheena became quiet."
According to the driver, a day later it was Indrani who took out a matchbox and set her body on fire.
When they stopped to buy petrol for the job, Indrani "applied lipstick on Sheena's lips and tidied her hair".
After burning the body in the jungles, the three stopped for coffee and Indrani allegedly told the driver to keep quiet or he would "face consequences".