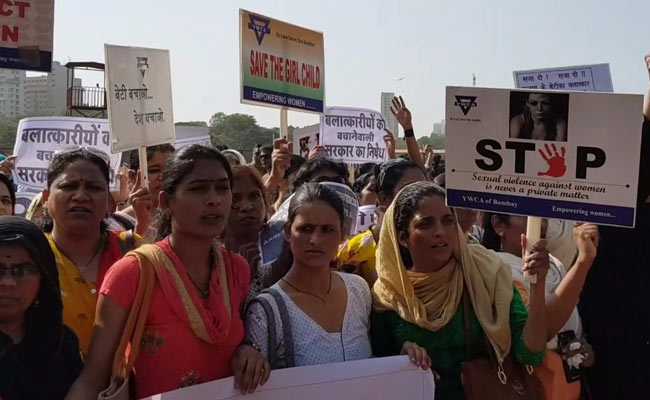 Mumbai:
As the outrage grows across the nation over the rape cases in Jammu and Kashmir's Kathua and Uttar Pradesh's Unnao, hundreds of citizens of Mumbai gathered at the Azad Maidan on Friday to protest and question the slow pace of probe in both the cases.
Around 200 people - including lawyers, activists, educationists, authors and students - assembled at Azad Maidan in South Mumbai after an NGO, Muslim Mahila Andolan's Noorjehan Niaz, called the protest on Thursday evening. Some political leaders from opposition parties were also seen in the crowd.
"Today is different," Noorjehan Niaz said. "The perpetrators feel emboldened. We have a ruling dispensation that supports the perpetrators and that seems very shocking. It's encouraging to see people coming out to raise their voice," she added.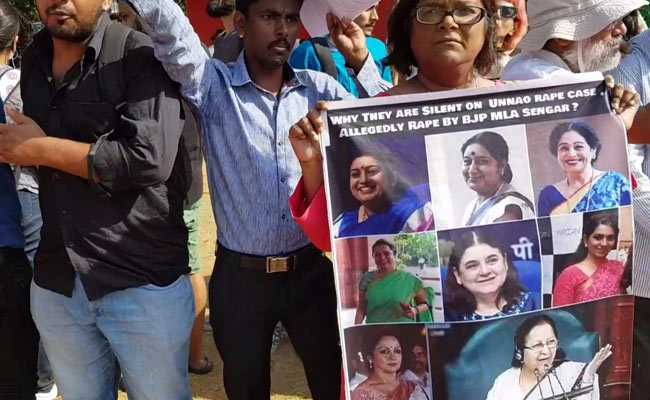 Referring to centre's "Beti Bachao, Beti Padao" scheme, social worker Trisha Shetty stressed, "It's absolutely unacceptable when a social scheme is reduced to marketing campaign. Our minister of Women and Child Development, Maneka Gandhi, is tweeting about unclogging kitchen sinks and about the fast with Prime Minister Narendra Modi. At the end of the day who are you fighting for?"
Ms Shetty, who runs a not-for-profit organisation, SheSays.com, which empowers women to act against sexual violence, further said, "We've elected you (the ruling political party at the centre) to ensure women's rights, to safeguard women's rights, especially in Uttar Pradesh."
Slamming the lawyers, who
resisted the filing of a charge sheet in the Kathua rape-murder
case of an 8-year-old tribal girl, senior advocate Mihir Desai said, "An 8-year-old girl was raped and murdered and when the police tried to file a charge sheet, they were stopped by the Jammu Bar association coming together. I have not seen anything like this before, at least in India."
Author Dilip D Souza agreed to Mr Desai, saying, "To use the argument that at some level, rapes happen all the time and to pretend that it's no longer shocking and get involved in a cover-up is sickening. We are all outraged with the bar association's actions."
An 8-year-old nomad girl was raped and murdered in Jammu's Kathua in January after she was kidnapped and sedated. The eight accused involved in the rape and murder case include two special police officers. The case evoked national outrage as horrific details of the crime emerged in the
charge sheet filed by state police
.
In the other case, a 17-year-old girl alleged rape by BJP legislator Kuldeep Sigh Sengar and his brother Atul Singh in Uttar Pradesh. The girl's father died earlier this week after he was allegedly beaten by the men of the rape accused. Kuldeep Sengar
was arrested on Friday
.