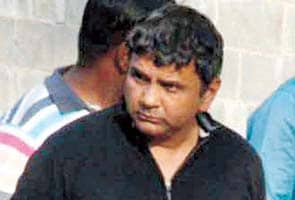 Mumbai:
After being on the run for 15 years, Sudhir Mehta, brother of 'Big Bull' Harshad Mehta, was arrested from the city by the Criminal Investigation Department (CID) on Saturday.
Mehta was wanted in a cheating and forgery case. According to the information given by CID sleuths, Mehta had gone absconding after duping a city-based financial company to the tune of Rs 86 lakh in share investments.
Mehta was produced before a court and remanded in police custody for 10 days. His brother Harshad, who died in 2001, was also an accused in the case. Two other suspects, Mangal Jain and Dr Amit Shaha, are still at large.
Deputy Superintendent of Police with the CID V S Tikole said that Sudhir Mehta was untraceable since 1997. "We received a tip-off that he would be coming to a hotel in Pune and laid a trap to arrest him on Saturday," Tikole said.
The complaint was registered on July 29, 1997, by Shreekant Gopal Rathi, the director of a city-based financial firm, with the Faraskahana police station.
"Sudhir Mehta in 1994 had taken control of Ahmedabad-based Indo-American Credit Co-operative Ltd and Amit Shaha was its managing director. They later brought a public issue of 75 lakh equity shares of Rs 10 in the market and got Rs 750 lakh for the company, and in order to distribute original shares among the company's shareholders, the duo got published 75,000 share certificates with serial numbers and one lakh share certificates without serial numbers from Messrs Specific Computers Ltd, Ahmedabad," Tikole said.
The officer said that in April 1995 share broker Bharat Somchand Khona had given shares of the companies to Jain, local share broker, who mortgaged them to city-based financial institutions while taking a huge sum of money from them.
Jain gave the money to Khona, who in return invested it in the share market. Khona, with the help of the directors and managing directors of some companies, had allegedly prepared bogus shares while prices of some shares were increased through rigging.
Even though a special court in Mumbai had restricted Sudhir Mehta from trading in the share market, he, along with his accomplices Shaha, Khona and Rajan Mehta allegedly traded shares of the company in the name of other persons. For this purpose, Khona had given Rs 71 lakh cash to Sudhir Mehta and deposited a cheque of Rs 29 lakh in a bank account in Janta Sahkari Bank, Fort, Mumbai.
Share broker Jain had mortgaged 15,000 shares of the company with Rathi, the complainant. When Jain went underground, Rathi, who found that the shares were bogus and that he had been duped of Rs 1.95 lakh, lodged the police complaint.A chargesheet was filed in 2004 by the CID after taking over the investigation of the case from the Faraskhana police station.
The other accused who are currently out on bail are Khona and businessman Prafulla Kantilal Rokadiya, both residents of Mumbai, chairman of Rinki Group Shashikant K Gandhi, and director of Indo-American Credit Co-operative Company Rajan Jayankumar Mehta of Thane.