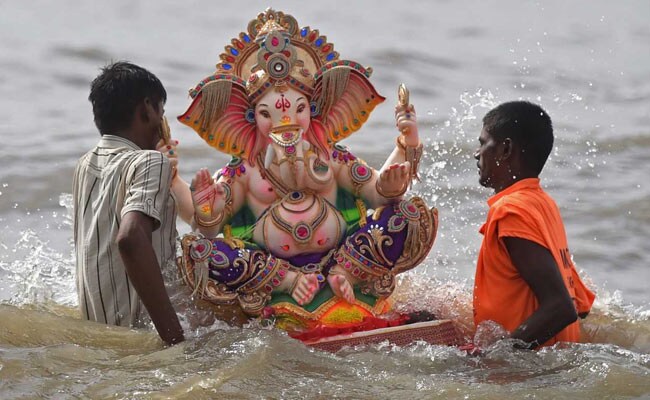 Mumbai:
Some 40,000 police personnel will fan out across Mumbai to secure the city under the watchful eyes of over 5,000 CCTV cameras on Ganesh Visarjan on Tuesday. Drone cameras will also fly over tens of thousands of people who will come out on the streets to participate in the Ganesh idol immersion event.
"We deployed adequate force for tomorrow's immersion," Mumbai Police Public Relations Officer Rashmi Karandikar told NDTV.
In addition to 40,000 police personnel, the state will deploy 1,200 State Reserve Police Force personnel and 120 Rapid Action Force personnel, apart from bomb disposal and quick reaction teams, Ms Karandikar said.
Some 500 traffic wardens along with an assortment of National Cadet Corps students and volunteers from social organisations will help keep the city organised and safe on Ganesh Visarjan, the official said.
The drone cameras will keep an eye at crowded locations such as Girgaum Chowpatty, Juhu, Powai Lake, Dadar Chowpatty, Madh Jetty and Marve in Malad.
"We will use drones for immersion points and as well as for immersion routes. In addition to that we will have 5,000-plus CCTV cameras," Ms Karandikar added.
Over 7,600 Ganesh idols installed at public places and over one lakh idols in homes will be immersed tomorrow. The event will start in the afternoon with smaller idols and continue well into Wednesday morning with the immersion of big idols like Lalbaugcha Raja, which will reach Girgaum Chowpatty at 6 in the morning.
Ganesh Visarjan marks the end of the 10 Ganesh festival in Mumbai, popularised by Bal Gangadhar Tilak who wanted to bring people together to create a feeling of patriotism and fight the British Raj.