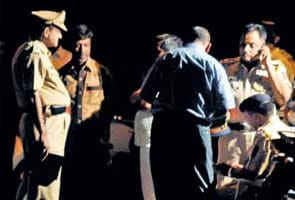 Mumbai:
Members of D-Company's rival gangs, especially the Chhota Rajan gang, are going underground fearing a backlash after last month's attack on Dawood Ibrahim's brother Iqbal Kaskar at Bhendi Bazaar.
Police officials, who have been keeping a discreet watch on underworld members, have found that a large number of them have gone missing from their hideouts. They have shifted base to safer shores to avoid being targeted by shooters from the D-Company, said a senior crime branch officer. "Glaring cases in point are a large number of Rajan gangsters operating from Dharavi and Tilak Nagar, Chembur, who have gone on pilgrimages to avoid the D-Gang's wrath," he said. Joint Commissioner (crime) Himanshu Roy, meanwhile, said, "We are keeping a tab on the changing scenario in the underworld."
Underworld insiders said that, looking at the Dawood gang's past record, it is almost certain that it will mount revenge attacks on rival gangs to retain its prestige. "Gangsters rarely forget their enemies or forgive an attacker," said a source. D-Company's legendary trend of revenge killings began with the murder of rival gangster Amirzada in broad daylight on the Sessions Court premises to avenge the killing of Dawood's elder brother Sabir. This was followed by the elimination of hundreds of rival gangsters on Mumbai's streets.
Those who died at the D-Gang's hands included Alamzeb, Samad Khan, Sanjay Raggad, Ashok Joshi, Rohit Verma, Balu Dokre, Farid Tanasha and Arun Gawli's younger brother Pradeep alias Papa. Underworld sources said a backlash may be close at hand now because the D-Company is becoming increasingly sure that the two shooters were sent to bump-off Kaskar and not just his bodyguard, as was being theorised a few days after the attack. They said it would have been easier to kill Arif Bael in Jogeshwari, where he stays, or elsewhere rather than at Bhendi Bazaar.
Insiders said Dawood's right-hand man, Chhota Shakeel, is planning a major strike on Rajan's stronghold in Kathmandu. One reason for this is that one of the shooters hired to kill Kaskar was from Nepal. The involvement of the Nepali shooter, Indralal Khatri, also points to the fact that Rajan is now banking on his reserves in Kathmandu to re-launch himself in the upper echelons of the Mumbai underworld. Rajan's slain lieutenant Farid Tanasha had trained dozens of Nepali shooters to work for him. Officials also believe that Rajan's point men in Mumbai, including Umed-ur-Rehman and members of his faction, are on the run. "Police teams are trying to track them," added Roy.