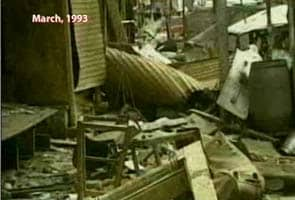 Mumbai:
March 12, 1993 changed India and Mumbai (then Bombay) forever. 12 bomb blasts across the financial capital left 257 dead and over 700 injured. But its long term impact was the communal fault lines it created in cosmopolitan Mumbai. Since then Mumbai has seen many more terror attacks. And every time an attack has taken place the notions of division have only been reinforced.
Among the targets were places like Bombay Stock Exchange, Air India Building Century Bazaar and Sea Rock Hotel in Bandra. Today there is a permanent state of alert at the stock exchange and Air India building. Some other places, like the Sea Rock Hotel did not survive the aftermath of the blasts. With Rs. 9 crore in damages after the blasts the hotel was put out of business. Today the building itself has been razed to the ground.
Even before the blasts, Hindus and Muslims in Mumbai lived in different parts of city. It wasn't about a communal divide but more on grounds of bonding within one's own community.
But then the blasts seem to have changed the communal fabric of the city for worse. Well known Islamic scholar, Zeenat Shaukat Ali points out, "The outcome of the blast was the ghettoization and marginalisation of Muslims. There was a division of hearts in this city after those bombings. Development of islamophobia started after 93 blasts and Muslims began to be looked upon with suspicion which continues even today after every terror attack on the city."
After the 92-93 riots in the city, Mumbai has never again seen something like that again but citizens who are familiar with the city say this is probably because of the fear factor that set in.
Communication Specialist Alyque Padamsee says, "There have been no riots after 1993 but that is because Muslims are scared.
However Bombay is still the city of hope even if a person comes with five rupee and that is probably what had led Bombay to survive all these years in spite of the communal fault lines that were created by the communal riots in in 1992-93 and the 1993 bombings."
Mumbai has learnt from some lessons from its past. Today there is an effort to heal the wounds and repair the cracks that have been created. But with every terror attack, that becomes more and more difficult.


Disclaimer: The opinions expressed within this blog are the personal opinions of the author. NDTV is not responsible for the accuracy, completeness, suitability, or validity of any information on this blog. All information is provided on an as-is basis. The information, facts or opinions appearing on the blog do not reflect the views of NDTV and NDTV does not assume any responsibility or liability for the same.