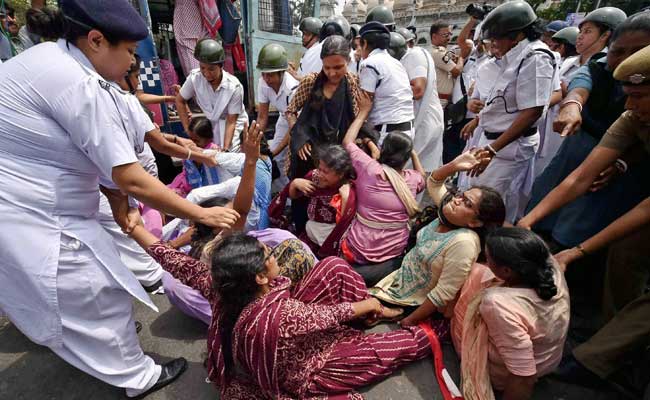 Kolkata:
The National Human Rights Commission (NHRC) on Thursday sought a report from the Mamata Banerjee-led West Bengal government following complaints that women protestors were assaulted by police during a rally on August 27.
The 'Nabanna Abhiyan', or the march to the state secretariat, was organised by peasant fronts of the opposition Left Front which subsequently turned violent in which many including police personnel were reportedly injured.
In notices addressed to the state chief secretary, director general of police and the city police commissioner, the NHRC has given two weeks' time to respond on the issue.
The notice comes following complaints by representatives of All India Democratic Women's Organisation (AIDWA), National Federation of Women in India (NFWI) and Janwadi Mahila Samity.
The complainants claimed that women protesters were subjected to baton charge, brick batting, tear gas and water cannons by male police personnel.
They also claimed that no women police force was present which is against the violation of the guidelines of the Supreme Court of India. Some of the women protestors were severely injured and one of them is in the ICU.
In a statement, the NHRC said that according to a complaint, received on Wednesday (September 2), women had assembled to demand food security, protection against agrarian distress and to protest against complete breakdown of law and order in the State.
"They were supposed to march towards Nabanna. As the march progressed, the women protestors were assaulted," it said.
The NHRC observed that the complaints, if true, raise a serious issue of violation of human rights of the women protestors.
"If the women protestors were attacked by the police force while protesting peacefully, it amounts to violation of their Fundamental Right to assemble peaceably and without arms as guaranteed under Article 19(1)(b) of the Constitution of India," the Commission stated.