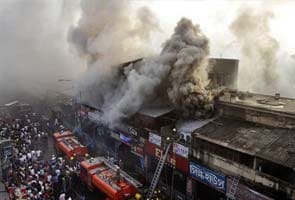 Kolkata:
A massive fire broke out at north Kolkata's Hatibagan market at around 2:30 am today. It took 32 fire engines over five hours to bring it completely under control.
According to reports, many shops were gutted in the fire. However, there were no injuries or casualties.
(See pictures here)
Hatibagan market is one of the oldest and most-congested markets in the city. It houses close to 1000 shops and godowns. It is located near a residential area and hence there were fears that the fire could spread to nearby houses.
"The market is constructed in an unplanned way. Local people helped us in bringing the fire under control," a fireman said.
An eyewitness present at the site added, "For several years, there was speculation that a fire may break out in Hatibagan. But no preventive measures were taken."
Fire Services Minister Javed Khan, who rushed to the spot, said a probe has been initiated to determine the cause of the fire.
Top police officials, including Commissioner of Kolkata Police R K Pachnanda and Deputy Commissioner (North) Vishal Garg, also reached the site.
This is the third major fire incident in Bengal in the last two days. Yesterday, at least four people were injured in fire at two hospitals.
In December last year, a pre-dawn blaze at Kolkata's AMRI hospital left over 90 people dead. Most of them were patients who choked to death due to toxic smoke.
In another major fire incident in the city in March 2010, at least 43 people were killed in a devastating fire that swept through a 150-year-old multi-storeyed building in upscale Park Street.