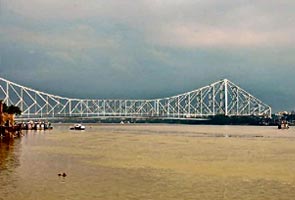 Kolkata:
Kolkata, once the capital of British India, is set to get a giant wheel on the lines of 'London Eye' which would give tourists a bird's eye view of the city.
To be set up on the Hooghly riverfront, the giant wheel to be known as 'Kolkata Eye' would have a diameter of 150 to 180 metres with more than 30 viewing cabins. It will accommodate more than 500 people per revolution.
"The Giant Wheel will come up on the banks of the river near the second Hooghly bridge," West Bengal Tourism Minister Rachpal Singh said here.
"The idea is to set up the Great Kolkata Wheel as an iconic structure for attracting tourists to the city," Singh said.
Like the London Eye on the banks of the Thames in the British capital, a ride on the Kolkata Wheel is likely to be for around 30 minutes per revolution and would give tourists a great view of the River Hooghly, the famous Howrah Bridge, the lush green Kolkata Maidan and beyond that the city skyline.
Chief Minister Mamata Banerjee had promised to give Kolkata, which was the capital of British-ruled India till 1911, an image makeover on the lines of London and the setting up of the Giant Wheel and beautification of the river front are part of her plans.
Get Breaking news, live coverage, and Latest News from India and around the world on NDTV.com. Catch all the Live TV action on NDTV 24x7 and NDTV India. Like us on Facebook or follow us on Twitter and Instagram for latest news and live news updates.