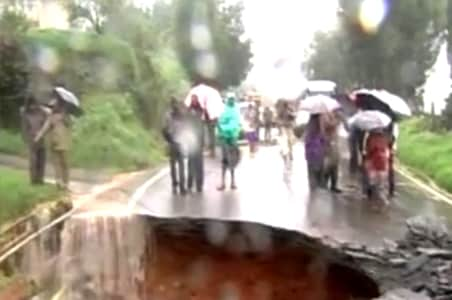 Thiruvananathapuram:
The destructive 'Thane' effect left the southern parts of the state reeling and paralysed the capital city claiming five lives. The torrential rain from Friday night flooded the low-lying areas bringing misery to the lives of thousands.
Around 150 houses were partially damaged and eight houses fully.
Among the five casualties, two are kids. Sumathi, 58, of Vilappilssala, Mohan, 50, of Kattachalkkuzhi, Lalithamabika, 70, of Chirayankeezhu, her grand-daughter Nandana, 3, and Adithyan, 4, Kowdiar, are those who died. Kalesh, Adithyan's father, who went in search of his son, is missing.
Lalithamabika and Nandana were electrocuted while Mohan was swept away by the gushing waters. Sumathi died in her house which collapsed in a landslide. Her husband Ponnayyan is admitted to Medical College Hospital here with injuries.
Rescue camps were opened at six places in the city which provided shelter to 1,500 people. Four shutters of Neyyar dam were opened. Agriculture also suffered losses.
The heavy rain continued unabated till Saturday evening. Traffic came to a grinding halt for hours in places like Venjarammoodu where paddy fields which were filled up recently on either side of the road were flooded. A number of vehicles were damaged in the traffic jam.
In the city, even houses and establishments perched on the upper reaches were flooded. Coastal areas in the district bore the brunt with rising tides lashing the areas. Train services from the capital were delayed as tracks were flooded. The Kerala State Road Transport Corporation bus station at Thampanoor as usual was submerged and services were interrupted for hours.
According to the Meteorology Department, a low pressure area formed by the cyclone 'Thane', which hit Tamil Nadu, triggered the heavy rainfall in south Kerala. Thiruvananthapuram city recorded 18 cm of rain while it was 16 cm in Nedumangad, 11 cm in Neyyantikara and 7 cm in Vellanad.
With the Chief Minister and most of the ministers held up by weekend schedules outside the city, local Member of Legislative Assembly and Transport Minister V S Sivakumar visited the flood- affected areas and convened an emergency meet of officials at the district collectorate.
The government has announced a relief of Rs 10,000 each for the families of the deceased. An assistance of Rs 1 lakh was given for the fully damaged houses and a maximum of Rs 35,000 for the partially damaged ones.