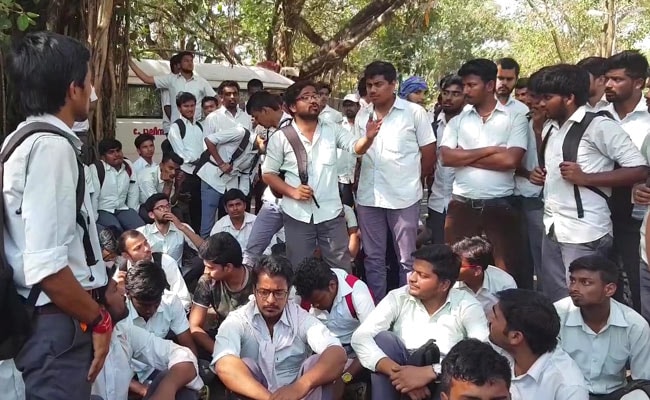 Kochi, Kerala:
A controversy that began over beef cutlets a week ago has led to an indefinite shutdown of the Cochin University College of Engineering in Kerala's Kuttanad. Around 200 students, mostly from outside the state, today boycotted internal examinations and protested outside the vice-chancellor's office on the university's main campus located 80 kilometres away in Kochi. Alleging that they were deliberately served beef cutlets, the students demanded action against the principal.
The vice-chancellor has now formed a committee that will look into the allegations made by the students. "It's not in our hands to establish if the cutlets were beef. I have asked the principal to file a police complaint," said vice-chancellor J Letha.
Trouble began on January 25 after snacks were served during a private seminar on banking organised on the campus. Several students who are vegetarian alleged that beef cutlets were passed on to them as veg snacks. A group of aggrieved students, led by Himanshu Kumar, an activist of the ABVP or the Akhil Bharatiya Vidyarthi Parishad - the student wing of the RSS - lodged a complaint with the district collector.
One of the students who ate snacks at the seminar told NDTV, "I asked them twice. They said it was vegetarian food. After having a byte, I realised it was non-vegetarian stuff. Later, some Malayali friends told me that it was beef. I am worried but unable to tell my family about it."
But not everyone on the campus seems convinced with this argument.
"There was some misunderstanding that day. There were both veg and non-veg snacks. They first didn't ask what it was. Then they asked the person who was serving veg snacks. Only later did they ask us and ours was beef cutlets. We told them so. If it's such a big deal, they should ensure that they check what they eat," Abdul Basith, a student who was present at the seminar told NDTV.
Last year, Kerala saw a series of 'beef festivals' organised by students and activists after the central government banned the sale of cattle for slaughter. But this time the protesters say the issue is not beef. "We want to make it clear that we are not against beef, nor do we want beef ban. We just want to know why it was served in the name of vegetarian snacks," said Ankit Kumar, a student.
Police were called in yesterday after a clash between students over a 'beef festival' organised on the campus by Malayali students as a counter- protest. "It's about our culture. They made such a big issue out of beef, so we just showed our unity too", Akhil Raj, a student, said.
Rubbishing the allegations against him, the college principal says he didn't know what was on the menu at the seminar.
"If the students had any issues, and did not trust me, they could have gone to the vice-chancellor or registrar directly. But they went to the district collector and held press conferences. Two students came to me saying they consumed beef and were upset about it. I tried to console them. After all, this was not a seminar organised by the college. It was organised by the banking sector that also provided the refreshments. I did not know they would serve non-veg, let alone beef," Dr Sunil Kumar N told NDTV.