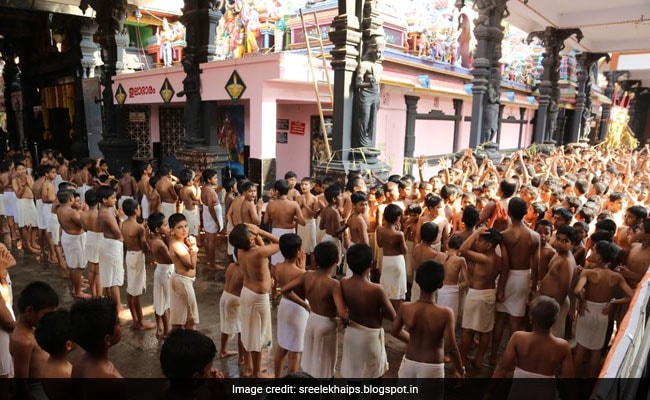 Thiruvananthapuram:
The Kerala State Commission for Protection of Child Rights on Wednesday said it has initiated a suo motu move to study the rituals followed in Kerala temples to see if the rights of children are violated or not.
Commission Chairperson Sobha Koshy told IANS that the process begun on Wednesday in this regard is "not against any particular temple".
"There was a
report from a top woman police officer
on the issue. We suo motu decided to find out what is happening. We are not against any temple or temples. What we will do is to find out what is happening during the rituals. This is a long process and we will examine all aspects and only then reach a conclusion and issues necessary orders," Ms Koshy said.
Director General of Police (Prisons) R. Sreelekha, in a blog titled 'Time to Stop This Yearly Crime in the Name of Faith!' on Tuesday had termed the 'Kuthiyottam' ritual at the famed Attukal Devi Temple here during the ongoing Pongala festivities as torture and demanded an end to the practice.
In the ritual, which is symbolic of human slaughter, small iron hooks are pierced into the skin of boys aged between 5 and 12, through which a small thread is knotted through and later removed.
The temple in the city centre is dedicated to Attukal Bhagavathi, believed to be an incarnation of Kannaki, the central character of Tamil epic "Silappathikaaram".
The police officer wrote that most boys -- who will undergo the ritual for five days during the 10-day festival -- will not be told about the "torture", adding that inflicting physical and mental pain on children are offences charged under the Indian Penal Code.
However, the temple authorities have denied that children are forced to take part in the ritual. They said it was unfortunate that Sreelekha came up with the blog when the festivities had reached their peak.
Sreelekha told the media on Wednesday that she had only stated the facts and that she stood by what she wrote.