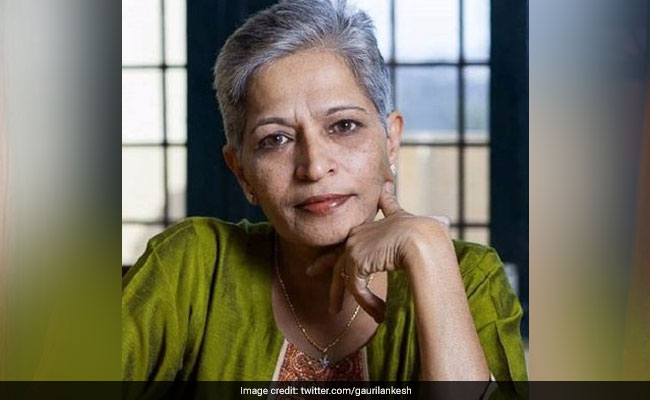 Highlights
2 right-wing leaders who were named by the accused admit to knowing him
Another person arrested; suspected to be the one who shot Gauri Lankesh
Gauri Lankesh was shot outside her Bengaluru home in September last year
Bengaluru:
Two right-wing leaders whose names figure on the "confession" statement signed by KT Naveen Kumar, the first person to be arrested for the murder of senior journalist Gauri Lankesh, admit to knowing the accused.
A Special Investigation Team (SIT) probing the case has made a new arrest in the case. 26-year-old Parshuram Wagmare, who was taken into custody from Sindhagi in Bijapur district of north Karnataka, is speculated to be the person who shot Ms Lankesh. The police are silent about his alleged role as it could hamper investigations.
Ms Lankesh, a vocal critic of right-wing hardliners, was shot dead outside her Bengaluru home in September last year.
In the 12-page statement that is part of the chargesheet filed last week, Kumar --- a resident of Mandya district --- who was arrested in February this year for illegal possession of bullets, talks of his meeting with Sri Rama Sene chief Pramod Muthalik, a man who was arrested for the 2009 attack on young boys and girls in a pub in Mangalore. Muthalik and all others charged for the attack that was caught on camera were acquitted earlier this year due to lack of evidence.
Muthalik says he knows Naveen who is the founder of Hindu Yuva Sene, a right-wing group.
"Sri Ram Sene doesn't have any presence in Mandya district and has no links with him (Naveen). But he is a Hindu organizer and I know him. I have met him two or three times", said Pramod Muthalik.
The other person named in Naveen's statement is Mohan Gowda, a spokesperson for Hindu Janajagruti Samiti. The statement says Praveen --- who has been arrested in connection with a plot to kill Mysuru-based rationalist KS Bhagawan --- had asked Naveen for bullets and a gun after getting his number from Mohan Gowda. When Naveen called Gowda to check, the statement claims, Gowda vouched for Praveen.
"I have known Naveen for two years now. We have invited him to our programmes. But I don't know who Praveen is. I haven't introduced the two", claimed Gowda.
At a press conference in Bengaluru today, Gowda and Muthalik released the first page of a letter from the Forensic Science Department in Gandhinagar where Naveen had been sent after he agreed to go through a polygraph test in April. The letter includes the gist of Naveen's verbal statement that he did not supply the gun or bullets for Ms Lankesh's killing and that he was not involved in her murder.
SIT officials responded by releasing the second page of the letter as well which says Naveen finally refused to undergo the polygraph test.
In addition to Praveen, three others are in custody for their alleged involvement in a plot to kill Mr Bhagawan. Among them Amit Degewekar, who was reportedly questioned in connection with the 2008 Malegaon blast case in Maharashtra.
The SIT is now looking at links between these men and Ms Lankesh's murder. It is believed the plan was to kill Mr Bhagavan after Ms Lankesh as both were considered "anti-Hindu".