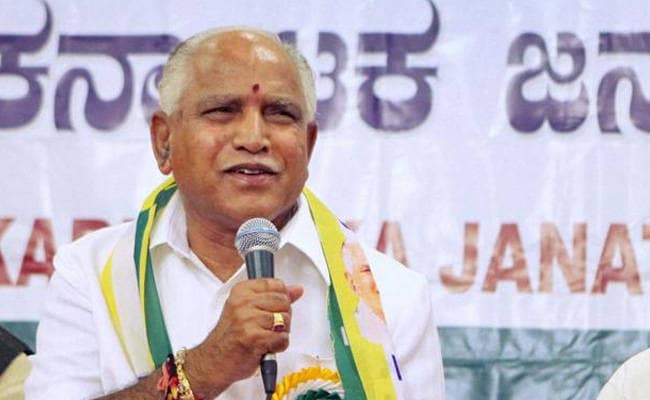 Bengaluru:
With Karnataka Assembly elections just a few weeks away, state BJP chief BS Yeddyurappa on Sunday said he was ready to contest against Siddaramaiah from Badami, the Chief Minister's second constituency, if the party's national president Amit Shah asked him to do so.
"Our party's national president will decide whether I should contest or someone else. If I'm asked to contest, I'm ready," Mr Yeddyurappa told reporters in Chikkamagaluru.
Whether he faces the Karnataka Chief Minister or somebody else is fielded in Badami, Siddaramaiah's defeat is certain, Mr Yeddyurappa said.
Badami in Bagalkote will be the second constituency from where Siddaramaiah will contest the May 12 Karnataka elections, the other being Chamundeshwari in Mysuru. The results will be declared three days later.
Amid speculation that he would be fielded against Siddaramaiah from Badami, state BJP vice-president B Sriramulu, who has already filed his nomination from Molakalmuru in Chitradurga, said, "We are disciplined soldiers of BJP... wherever the party asks me to contest from, I will do so."
Siddaramaiah has been representing Varuna constituency in Mysuru since 2008, which he has given up for his son Dr Yatindra. But there has been speculation that Chamundeshwari would be a tougher fight than Varuna. When asked if his nomination for Badami was done keeping the conjectures in mind, he said, "It is not that I am interested in contesting in Badami. The leaders from North Karnataka wanted me to contest from Badami. They say if I contest from Badami, it will help neighbouring constituencies."
Regarding the names of heavyweights that the BJP plans to field in Badami, he said, "Let them (BJP) field anyone. I'm not worried. Elections are fought on ideologies not between persons," he added.
The Congress in its list of candidates for 218 seats announced last week, had named Dr Devraj Patil as its nominee from Badami, but in its final list today, Dr Patil's candidature was replaced by Siddaramaiah. The Chief Minister will file his nominations from Badami on Tuesday.
Siddaramaiah has won five times and was defeated twice in Chamundeshwari. Badami with strong Kuruba presence, the community to which Siddaramaiah belongs, is being seen as a safer option for the Chief Minister.
(With inputs from PTI)