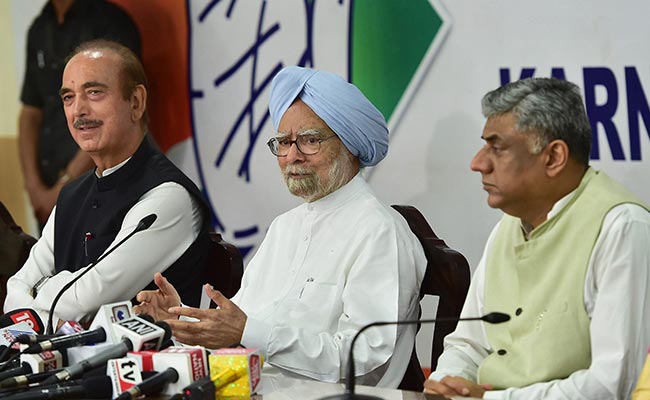 Highlights
Manmohan Singh said PM Modi used his office to target his opponents
He accused PM Modi of framing ideologies "unbecoming of a Prime Minister"
He said he hoped that PM Modi did not polarise the society in Karnataka
Bengaluru:
In a stinging attack on Prime Minister Narendra Modi, his predecessor and senior Congress Manmohan Singh said he had "stooped low" and used his office to target his opponents "day in and day out."
"No prime minister in our country has used the office of prime minister to say things about his opponent the way Mr Modi has been doing day in and day out.... It is very shocking to see the Prime Minister of the country stoop so low and use language and frame ideologies that are unbecoming of a Prime Minister," Manmohan Singh said, adding, "I sincerely hope that Modi learns his lesson and does not polarize the society in Karnataka."
The former prime minister was
addressing a press conference in Karnataka
as part of the ruling Congress's campaign for the May 12 election. He also slammed what he called the Modi government's "disastrous policies" and "economic mismanagement", stating that the country was facing crises that were avoidable.
Referring to bank frauds, Dr Singh said the money swindled almost quadrupled from Rs 28,416 crore in September 2013 to Rs 1.11 lakh crore in September 2017.
"Perpetrators of these frauds meanwhile escape with impunity. The economic mismanagement of the Modi government, and I say this with great care and responsibility, is slowly eroding the trust of the general public in the banking sector," he said.
According to him, the country was experiencing difficult times. "Our farmers are facing an acute crisis, our aspirational youth are not finding opportunities, and the economy is growing below its potential," said Dr Singh, who was prime minister for 10 years between 2004 and 2014.
"It pains me to see how rather than standing up to all these challenges, the government's response has been to stifle dissent when deficiencies are pointed out," he said.
Stating that economic policy has a significant impact on the lives of people, he said it was essential that those tasked with decision-making pay careful attention to policies and programmes and not act on mere whims and fancies.
"India is a complex and diverse country and no one person can be the repository of all wisdom," said Dr Singh, in an apparent dig at PM Modi.
Every time an answer was sought for any of the "disastrous policies" of the BJP government, he said, "all we hear is that the intentions are virtuous".
The two "major avoidable blunders" of the government had been demonetisation and the hasty implementation of GST or Good and Services Tax, said the former PM. The intentions of the Modi government which it claimed were good, had resulted in "massive" losses for the country, he added.