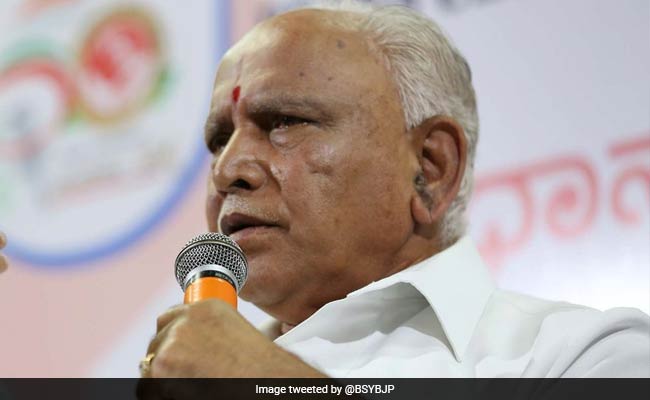 Issued twice from the Congress to the BJP, the 15-minute debate challenge appears to have been accepted. BS Yeddyurappa tweeted this evening to indicate that he was game for a
debate with Chief Minister Siddaramaiah
, who had issued the challenge this morning in full-scale newspaper advertisements.
Directing a few taunts at Mr Siddaramaiah, the 75-year-old prospective Chief Minister of the BJP even expanded the field of the debate:
I think your Hublot watch suggests you the right time to show up for a debate.
1. Do get Vijay Eswaran, your fugitive friend along.
2. Do carry the diary of L Govindaraju.
3. Let us also debate: Turning Lokayukta Powerless, Farmers' suicides, Sand Mafia, Honest Officers' Transfer https://t.co/OCgfmtOlno

— B.S. Yeddyurappa (@BSYBJP) May 7, 2018
The last stretch of campaigning for Saturday's state assembly elections has been shrill, replete with allegations and counters.
Today, the BJP has threatened to ask the governor for sanction to prosecute Mr Siddaramaiah for links with a company allegedly involved in a Ponzi scheme. The company belonged to Vijay Easwaran. The BJP alleges that the Chief Minster met him in 2013 during the World Economic Forum meet in China.Mr Siddaramaiah has denied the accusation.
The BJP has even alleged that Vijay Eswaran had gifted Mr Siddaramaiah the expensive watch that became the centre of controversy in March 2016. Mr Siddaramaiah had said the timepiece was a gift from his NRI friend Dr Girish Chandra Varma. The watch was eventually handed to the Assembly speaker as a state asset.
Stung by the charge, the Congress had issued the debate challenge this morning. Mr Siddaramaiah had underscored it several tweets, welcoming PM Modi to debate and promising to speak extempore.
PM Modi is deliberately confusing Karnataka voters with his bombastic speeches on non-issues. All hot air & no substance. My contest is not with him. It is with Yaddyurappa.



I challenge him to an open debate on issues on a single platform. Will he accept? Modi is also welcome! pic.twitter.com/34Jl6nIeOE— Siddaramaiah (@siddaramaiah) May 7, 2018
I have asked @BSYBJP to join me in an open debate. @narendramodi is welcome to join.

I will speak extempore. They can bring paper



Come on BSY avare let people see who they are voting for beyond the smokescreen created by hot air from Modi-Shah-Yogi teamhttps://t.co/FkSstZIQFW— Siddaramaiah (@siddaramaiah) May 7, 2018
PM Modi had used the extempore taunt against Rahul Gandhi when the Congress chief invited him to a 15-minute debate recently.
The Prime Minister had responded with a jibe to Mr Gandhi's challenge, saying he challenged Mr Gandhi to speak for 15 minutes without notes in Hindi, English or his "mother's mother tongue" -- a reference to Sonia Gandhi's Italian origins.