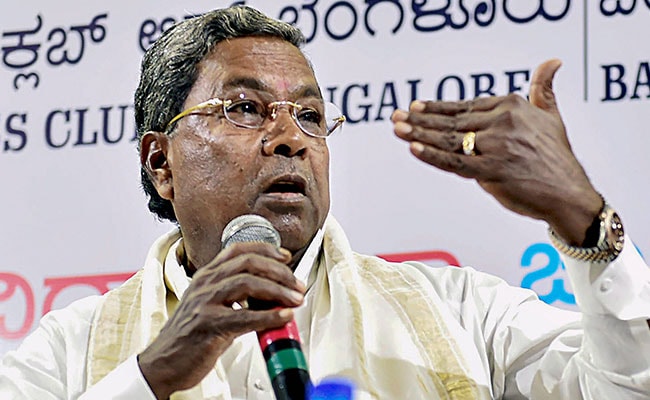 Bengaluru:
Karnataka Chief Minister Siddaramaiah made the 15-minute debate challenge official today. Stung by BJP allegations of Chief Minister Siddaramaiah's meeting with two "declared absconders" wanted for financial fraud, the Congress issued an advertisement today in local dailies. The ads, featuring party chief Rahul Gandhi and the Chief Minister, asked the BJP's prospective chief minister BS Yeddyurappa to a "debate with facts".
A tweet from the 69-year-old Chief Minister repeated the invitation -- with an addition: "Modi is also welcome".
PM Modi is deliberately confusing Karnataka voters with his bombastic speeches on non-issues. All hot air & no substance. My contest is not with him. It is with Yaddyurappa.

I challenge him to an open debate on issues on a single platform. Will he accept? Modi is also welcome! pic.twitter.com/34Jl6nIeOE

— Siddaramaiah (@siddaramaiah) May 7, 2018
While the topic debate was their plans "for the future of Karnataka", the large print hinted at the context: "Stop making false accusations, allegations. Why not debate with facts and let the people of Karnataka decide who is truthful," the advertisement read.
Yesterday, the BJP accused Mr Siddaramaiah of being linked to two men accused of fraud who are currently absconding.
BJP spokesman Sambit Patra told reporters that Mr Siddaramaiah had met them in China during the September 2013 World Economic Forum and he was seen receiving a "gift package" from them. Mr Patra even questioned if the gift was a "premium Hublot watch" - the taunt a reference to a hugely expensive watch the Chief Minister was seen wearing once.
Mr Siddaramaiah rubbished the allegations, saying he met many people in course of the China visit and cannot remember them all. But the Chief Minister -- who has hugely upped his game on Twitter, matching the BJP blow for blow -- has hit back, asking Mr Yeddyurappa reveal his plans for the state.
Since the campaigning started, the Congress has accused the BJP of not having any plans for Karnataka's development and using other means to deflect attention from it.
The 15-minute debate challenge was issued by Rahul Gandhi to PM Modi a fortnight ago. Last week, the Prime Minister had responded with an insult, saying he challenged Mr Gandhi to speak for 15 minutes without notes in Hindi, English or his "mother's mother tongue".