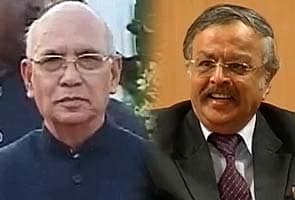 Bangalore:
Despite allegations of corruption among some of its most well-known politicians and bureaucrats, Karnataka remains without an ombudsman or Lokayukta. In September last year, Justice Shivraj Patil quit the office barely a month after he was inducted, after allegations of an inappropriate land deal involving him.
The government then shortlisted former Chief Justice of Karnataka, Justice S R Bannurmath to take over as the Lokayukta. But last night, Governor HR Bhardwaj rejected him, escalating his well-established animosity with the government.
In any case, Justice Bannurmath had written to Chief Minister Sadananda Gowda yesterday, stating that he no longer wished to be considered for the role. He said today that recent allegations in the press about acquiring a plot of land in violation of city laws had been amplified by the Governor.
"Is there is no code of decent conduct expected to be followed and respected by high Constitutional functionaries in the matter of making public allegations against a person being considered for the Lokayukta appointment?" he asked.
The Lokayukta's office in Karnataka acquired the status of an exemplary anti-graft force thanks to Justice Santosh Hegde, who served as ombudsman for five years, and retired in August last year. Days before his term expired, he delivered a consummate account of how bureaucrats and politicians were conspiring to allow and promote illegal mining in the state. The report forced then chief minister B S Yeddyurappa to resign.
The need to have a Lokayukta in every state is what anti-corruption crusader Anna Hazare and his activists have campaigned for over the last 18 months.