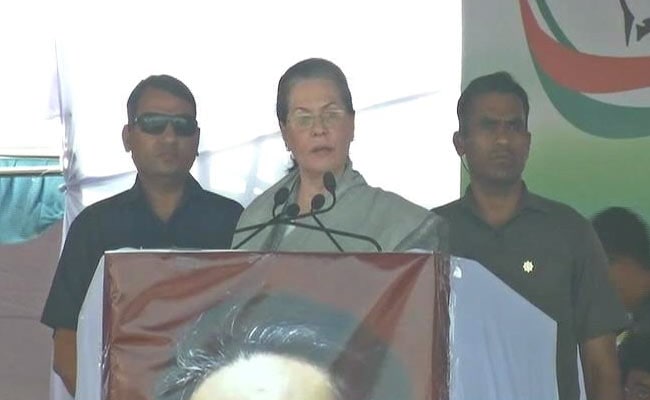 New Delhi:
Sonia Gandhi's rally in Karnataka today, about which some state Congress leaders were not aware of till three days ago, was at the insistence of party chief Rahul Gandhi, according to sources. The former Congress chief addressed a gathering at Vijayapura in north Karnataka that has a dominant population of Lingayats who are seen as BJP supporters.
Chief Minister Siddaramaiah attributed the decision to the desire of Congress workers in the state."The workers of the party in Karnataka wanted Sonia ji to visit once. One day, she's coming for one day," Mr Siddaramaiah told NDTV.
The last time Sonia Gandhi campaigned was nearly two years ago in Varanasi in the run-up to the Uttar Pradesh assembly elections.The
road show she was holding
had to be cut short as she fell ill. Since then, due to health concerns, she had skipped campaigning for the party in the nine states where assembly polls were held.
Perhaps, what caused a rethink now is the importance the Congress attaches to Karnataka, one of the four states the party rules --- the other three being Punjab, Puducherry and Mizoram.
The Karnataka assembly elections is the first polls the Congress is fighting directly under the leadership of Rahul Gandhi who took over the party reins from Ms Gandhi in December last year.
A win in Karnataka, a state the BJP has gone all out to win back, will be seen as a public endorsement of sorts for his leadership in a party that has been repeated accused by the BJP of practising dynastic politics.
It will also come as a breather for the party that has registered a string of losses in assembly polls, barring Punjab last year, since the BJP-led government came to power at the centre in 2014. The Congress party then was in power in 13 states.
The Congress performance in Karnataka could also be seen as a barometer of Rahul Gandhi's political acumen, given the large number of rallies he has held in the state trying to match the political onslaught by the BJP and Prime Minister Narendra Modi who has repeatedly called for a Congress-
mukt
Bharat (Congress-free India).
While campaigning in the state recently, PM Modi had said Congress would become "Punjab, Puducherry, Parivar
(PPP) Congress
" if it lost Karnataka.
Hours before Gandhi's rally today, PM Modi had addressed a crowd in the same constituency, saying the Congress candidates were worried about losing their deposits.
Ms Gandhi sought to blunt the BJP attack by saying PM Modi seems "possessed by the devil of Congress-
mukt
Bharat" and is good at giving speeches but
"speeches cannot fill empty stomachs"
.