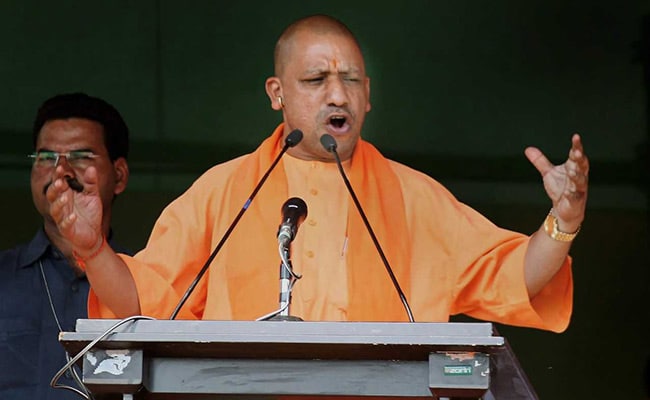 Highlights
"Congress not concerned about protecting cows or nation": Yogi Adityanath
He will be in Karnataka till Saturday, addressing multiple rallies
Yogi Adityanath is one of the BJP's most prominent campaigners
BENGALURU:
Yogi Adityanath, the Uttar Pradesh Chief Minister amped up the BJP campaign in Karnataka with a sharp attack on the Siddaramaiah government, for what he called, giving protection to jihadi elements. "If we have to keep our coming generations safe, then we will need a government that deals with jihadi," the UP Chief Minister told an election rally
in Karnataka's Shimoga
.
It was one of the six public meetings that
the 45-year-old monk-politician
, who has
returned to Karnataka
in the home stretch of campaigning for next week's election. Yogi Adityanath will be in the state till Saturday, addressing multiple rallies.
But his absence from Uttar Pradesh
even as 73 people lost their lives
in a dust storm followed by heavy rains also exposed him to a stinging barb from Chief Minister Siddaramaiah. In a tweet, the Karnataka Chief Minister started with expressing his condolences for the deaths.
"I am sorry your CM is needed here in Karnataka. I am sure he will return soon and attend to his work there," he said. After Yogi Adityanath completed his rallies for the day, the UP chief minister tweeted that officials had been ordered to compile an estimate of the damage by Friday evening.
The BJP leader, who is one of the BJP's most prominent and high profile star campaigners had been much sought-after by local party leaders, will return to the state next week for a final round. He is
seen as a Hindutva mascot
, a reputation that he built during the 19 years spent as parliamentarian from Gorakhpur in Uttar Pradesh. He has cemented this perception during his 13 months spent as Chief Minister of India's most populated state.
In Karnataka, he got right down to the job, speaking about cow protection, nationalism, cracking down on extremist Muslims, terrorists and criminals.
"The Congress is not concerned about protecting cows or the nation... They will continue to protect jihadi and terrorists... Till the Congress is in power, people like Yasin Bhatkal will continue to raise their heads," he said.
The reference to Yasin Bhatkal is seen to symbolise Islamic terrorism that BJP leaders allege Congress governments usually treat with kid gloves.
A native of coastal Karnataka's Bhatkal 150 km from where Yogi Adityanath stood on Thursday, Yasin Bhatkal had
co-founded the banned terror group Indian Mujahideen
with his bothers and others. The expert bomb-maker was, however,
arrested in 2013 and charged with killing scores of people
in serial bombings.
The Chief Minister showcased his government's track record in Uttar Pradesh in dealing with criminals and gangsters. Karnataka needs a government that acts against criminals, terrorists and jihadi elements, he said, pointing that UP too had a government that supported such people till about a year ago. But now, he said no jihadi element can raise his ugly head in his state.
In Sirsi 150 km away, Yogi Adityanath made similar points. "I have come here to call upon you to out rightly reject the divisive politics of the Congress, the jihadi mindset of the Congress, its policies of supporting terrorism and corruption," the Chief Minister, who is seen as a polarising figure, said.
"Today the Congress government in Karnataka and its chief minister, who is playing the most corrupt innings, are making the worst effort to divide the society. Their divisive politics supports terrorism," he said.
Citing Ramayana, he said when Lord Rama was wandering in the woods, he found his most loyal devotee Hanuman in this southern state. "It was Hanuman who was instrumental in establishing Ramarajya," Adityanath, who is also the pontiff of the Gorakhnath Math in UP, said.