Bengaluru:
Thousands of children of migrant labourers across the country are missing something that could give their generation a better life -- school education. In Bengaluru, concerned citizens with the help of police are helping to get at least some of these children into school as part of community policing efforts.
Community policing works to help curb crime with chosen citizens, called Area
Suraksha Mitras
, acting as the eyes and ears of the police. But apart from reporting chain-snatching and suspicious behaviour, they also get involved when they see children on the streets instead of in school. It is an uphill battle as many of them just drop out again.
In one slum in Bengaluru's relatively posh HSR Layout, NDTV met Mallikarjuna, a migrant labourer from north Karnataka's Ballari. He has four children, whose ages he does not know -- Rukunda, Keerthi, Uday and Indu. The children do not go to school. Rukunda had started to go but then dropped out.
Rukunda's earlier enrolment in school, at least for a few days, was thanks to community policing -- an initiative of the Bengaluru police working with the non-profit organisation Janaagraha.
Muralidhar K, an Area
Suraksha Mitra
community policing volunteer, saw many children in the slum, just playing on the street during school hours. "We told the police, see these children have come on the road. Then they said, let us put them in this government school. They are all in school now. I am very happy!"
The city police are welcoming the help. Abdul Ahad, senior police officer of Whitefield, told NDTV, "Community policing means taking the help of people in policing. That is on a voluntary basis. I feel this is the future of policing; more and more people should interact with police personnel."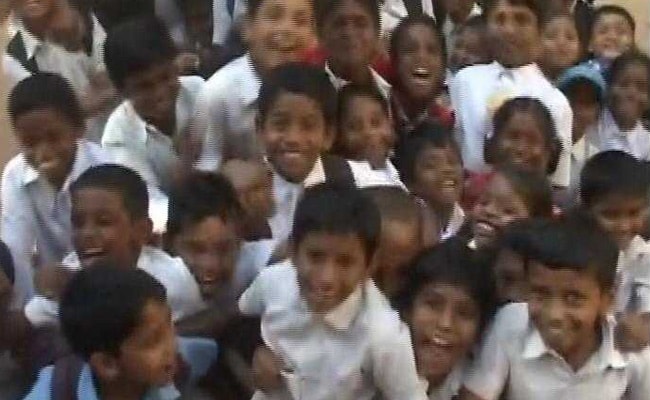 "They should remove the fear of police from their minds, they should be involved more and more in policing, and then policing really becomes very effective," he said. "The police to citizen ratio here is 750, that is for every policeman there are 750 citizens," Mr Ahad said.
At the government school in HSR Layout, there are several children from the same slum who have been enrolled in the school. They are also children of migrant labourers from north Karnataka but they have stayed on to learn. Two of them, Raju and Nagalakshmi, told NDTV they wanted to become engineers. The hope is that Rukunda will also return to school and get a chance of a brighter future.
Kiran Kumar AR, Senior Field Associate, Janaagraha, told NDTV that his team would follow up on this case. "Community policing team will do, we will do. Their parents are giving reasons like health problems and he has gone to the village. They are giving so many reasons, but we are also following-up and again we are getting him to school," Kiran Kumar said.
Mallikarujuna also said he will send the boy to school. "As soon as he is well, I will send him," he said.