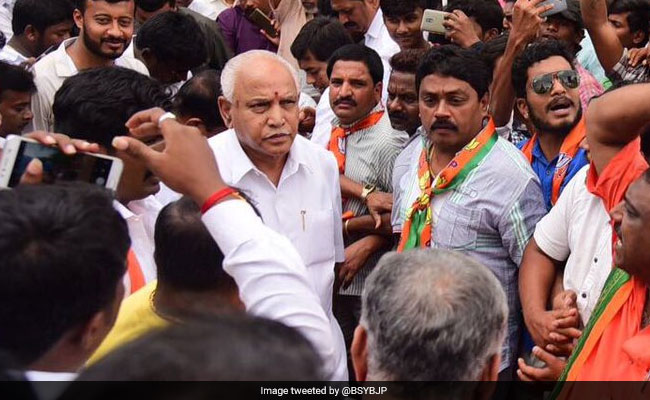 Bengaluru:
After the anti-corruption bureau of Karnataka filed two FIRs naming former chief minister BS Yeddyurappa in a land de-notification issue earlier this week, his party the BJP has hit back.
The anti-graft agency has alleged that as chief minister, Mr Yeddyurappa was party to the de-notification of land in north Bengaluru that was meant to be part of a Bangalore Development Authority (BDA) area called the Shivaram Karanth layout. The land was then allegedly sold at a much higher price to private parties which was said to have deprived the state government of revenue. It is said that up to 257 acres were involved in the land deals near Yelahanka. But the BJP has alleged that the move is politically motivated.
In a statement, the party said, "Keeping in mind the hardships that landlord farmers went through during Arkavathy layout and related legal hurdles so that such things aren't repeated during formation of Dr Shivarama Karanth layout and with the good intentions of protecting interests of poor farmers, direction was issued to drop few land owners land from primary notification."
"Since the Hon'ble Karnataka High Court/Divisional bench has completely squashed the entire Dr Shivarama Karanth layout plan itself, the Government directive to drop land from primary notification is irrelevant... it will be clear without doubt that the complaint filed by complainant is politically motivated and malice, hiding true facts and only intended to bring disgrace and extracting political benefits," it added.
In addition, the second accused in the FIRs, the then Special Land Acquisition Officer of the BDA, H Basavarajendra, said he had been pressurised by ACB investigators to accuse Mr Yeddyurappa of wrong-doing. In a letter, copies of which are with NDTV, addressed to the National Human Rights Commission, the state Governor and the Chief Secretary, he said he was named as an accused because he refused to do so.
The Anti-Corruption Bureau was formed by the Congress state government in a move that was criticised by some as weakening the position of the office of the state Lokayukta - the earlier anti-corruption body. Also, just as the timing of IT raids on Congress minister, D K Shivakumar, was thought by some to be politically motivated - he was looking after Congress MLAs from Gujarat at the time - there may be questions raised about the timing of these FIRs which were filed just ahead of a protest led by Mr Yeddyurappa targeting ministers accused of corruption in the Congress government.
Mr Yeddyurappa himself had to step down as the BJP's first chief minister minister in South India following charges of corruption. The investigation against D K Shivakumar is still in progress.