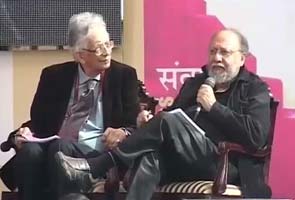 Jaipur:
The Jaipur Literature Festival witnessed fireworks on Saturday after sociologist Ashis Nandy made a controversial comment on corruption and people belonging to the Scheduled Castes, Scheduled Tribes and Other Backward Classes, which drew a strong response from the audience.
At a panel discussion at the festival, Mr Nandy said, "Most corrupt people come from Other Backward Classes, Scheduled Castes and Scheduled Tribes."
After his comments caused a furore, Mr Nandy issued a clarification saying he was trying to make the point that corruption among Dalits is noticeable while that of the rich is not. (
Read: Ashish Nandy clarifies, says he was misinterpreted: Full Statement
)
A police case was registered against Mr Nandy by a local politician, Rajpal Meena, amid a barrage of criticism from politicians. The police will study the video of Mr Nandy's statement on Sunday and decide what action to take.
Bahujan Samaj Party chief Mayawati demanded Mr Nandy's arrest. "Ashis Nandy should seek an apology immediately. Our party strongly condemns his remarks and demands that the Rajasthan government immediately file a case under the SC/ST Act and other stringent sections and send him to jail," she said in New Delhi.
"It seems he has lost his mental balance. We will see what action the state government and the organisers of the literature festival take against him and decide our next step," she said.
CPI leader D Raja said he was shocked by Mr Nandy's statement. "With due respect to Mr Nandy, his statement reflects his mindset and is an abuse for Scheduled Castes, Scheduled Tribes and Other Backward Classes. I hope the Jaipur police is reviewing his statement," Mr Raja said.
Dalit writer Chandrabhan Prasad sought to know how Mr Nandy had drawn his conclusions. "Is there a survey or any evidence that proves that Scheduled Castes, Scheduled Tribes and Other Backward Classes are more corrupt? If not, he is misusing his intellectual powers," Mr Prasad said.
(With PTI inputs)