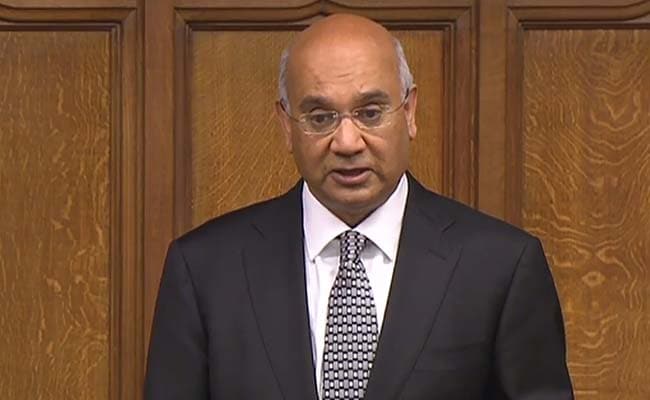 London, United Kingdom:
Keith Vaz, a senior British law-maker of Indian-origin, is under pressure to step down from his position as head of an influential parliamentary committee on Tuesday after becoming embroiled in a scandal involving gay prostitutes.
Mr Vaz, from the opposition Labour Party, a married father of two and one of the first British Asian senior ministers, was recorded paying two male escorts for their services, according to a report in the Sunday Mirror.
Asked about the scandal, Prime Minister Theresa May said on Monday: "What Keith does is for Keith and any decisions he wishes to make are for him, but I think overall what people look for is confidence in politicians".
Labour leader Jeremy Corbyn has indicated that Mr Vaz is under no obligation to resign his position.
"He hasn't committed any crime that I know of. As far as I'm aware it is a private matter," he said.
Mr Vaz, a 59-year-old former Europe minister under ex-premier Tony Blair, chairs a powerful home affairs parliamentary committee which conducts probes into immigration, drugs policies and sex workers.
The story, recounted in lurid detail typical of Britain's aggressive tabloid press, has provoked a debate about whether the newspaper intruded unfairly into his private life.
The Sunday Mirror has justified its reporting on the basis that there is a public interest in exposing Mr Vaz given his role in scrutinising legislation on sex workers and drugs.
In a statement to the Mail on Sunday, Mr Vaz attacked the journalists while adding: "I am genuinely sorry for the hurt and distress that has been caused by my actions."
He was filmed and recorded meeting the escorts at a flat he owns near his home in north London last month, according to the report.
In one conversation with an escort published in the tabloid and its sister publication the Daily Mirror, Mr Vaz reportedly offered to buy cocaine for a later date, although he said he would not take any himself.
He also asked an escort to bring the party drug poppers with him for their encounter. Mr Vaz has previously said in parliament that he would vote to ban poppers if the drug was proved to be harmful.
Mr Vaz, who was born in Yemen to parents from Goa, was first elected to parliament in 1987 for Leicester East in central England.