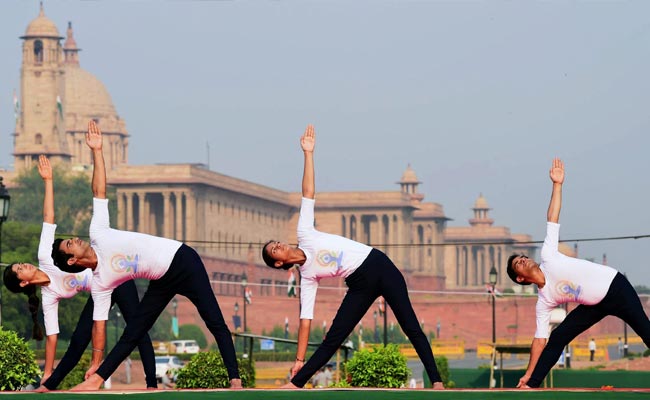 New Delhi:
Thirty companies of security personnel will guard Rajpath and surrounding areas on International Yoga Day as elaborate security arrangements have been made for the June 21 celebration.
Around 5,000 armed security personnel including Delhi policemen will be deployed to secure the yoga venue and area around it as thousands of yoga practitioners including Prime Minister Narendra Modi will attend the early morning programme.
Delhi Police Commissioner BS Bassi said, "there were complete security arrangements for International Yoga Day programme at Rajpath. Eighteen DCPs and 30 Companies will be on duty on the occasion."
The 35-minute Yoga programme organised by AYUSH Ministry is scheduled to begin at 7.30 am on International Yoga Day.
Mr Bassi said that local police is keeping an eye on the security arrangements and the area is being screened with the help of sniper dogs and bomb disposal squads.
Eighteen DCP-level officers will also be on duty to monitor the security arrangements that will be at par with the Republic Day Parade arrangements, said a senior police officer.
The Yoga day programme is expected to be attended by close to 40,000 people. The number of VIPs including minister and MPs, who will attend the function could be about 500, he said.
Also, thousands of officials and about 5,000 children will be performing yoga in the programme, he added.
Traffic restrictions were put in place from June 14. Rajpath has been closed for traffic from Vijay Chowk to India Gate and round the clock vigil of the area including the lawns was on.
The area restricted for public will be bounded by Mother Teresa Cresent, Baba Kharak Singh Marg, Outer Circle Connaught Place between Baba Kharak Singh Marg and Barakhamba Road, Bhagwan Dass Marg, Mathura Road, Lodhi Road, Aurbindo Chowk, Safdarganj Road, Kamaal Ata Turk Marg, Kautilya Marg and Sardar Patel Marg upto 11 Murti.
Only the labelled vehicles of the yoga invitees and residents of these areas will be permitted to enter from 2 am till conclusion of the function at about 10 am on June 21, said Jt Commissioner of Police (Traffic) Sandeep Goel.