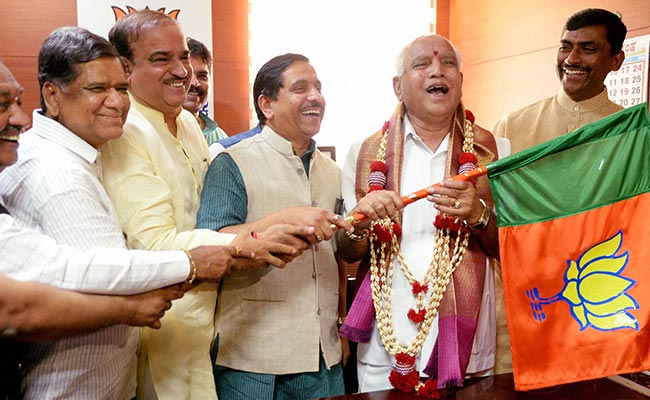 Bengaluru:
Yashwant Sinha, a former union minister, has been critical of the central government and his former party's leadership for its attempt to form the government in Karnataka when the BJP did not have the numbers or an alliance to reach the majority mark.
Mr Sinha
had headed to a spot near parliament this week
to protest Governor Vajubhai Vala's controversial invite to the BJP's BS Yeddyurappa that he said, had triggered an Indian Political League, quite like the Indian Premier League, or IPL in cricket,
"Now, MLAs and MPs will be auctioned. They will support those who will give them maximum money," Mr Sinha said on Thursday, a
reference to the governor giving Mr Yeddyurappa
15 days to prove his majority.
Soon after the Supreme Court gave Chief Minister Yeddyurappa just 24 hour notice to face the trust vote at 4 p.m. on Saturday, Mr Sinha tweeted another sharp attack on the ruling BJP.
"I can predict that t
omorrow's vote of confidence
in Karnataka will be won by BJP by foul means. Just wait and watch," Yashwant Sinha, who formally quit the BJP on the birthday of his son Jayant Sinha, a minister in PM Modi's government, said.
The jibe came less than 24 hours before Mr Yeddyurappa, sworn in as Chief Minister on the strength of his claim that the people of Karnataka had delivered the mandate to the BJP. The BJP has 104 seats in the state assembly that has an effective strength of 221 members. The Congress and Janata Dal Secular alliance won 78 and 37 seats respectively.
Mr Sinha's tweet was a follow-up to his forecast a day earlier that the political developments in Karnataka was, in his words, "a rehearsal" of what would happen in the national capital after the 2019 general elections if the BJP-led coalition didn't get a clear majority.
Yashwant Sinha held the Finance and External Affairs portfolios in Prime Minister Atal Bihari Vajpayee's cabinet between 1998 and 2004.
Mr Sinha was one of the veteran leaders of the BJP to be marginalised along with senior leaders including Murli Manohar Joshi and LK Advani after PM Narendra Modi's stunning victory in 2014. It was seen as a punishment for opposing Mr Modi being named their party's presumptive prime minister.
Unlike Mr Advani and Mr Joshi who have kept a low profile, Mr Sinha has been ruthless in his takedown of the central government. Last year, he had skewered his government's economic performance and has since then kept the barbs coming