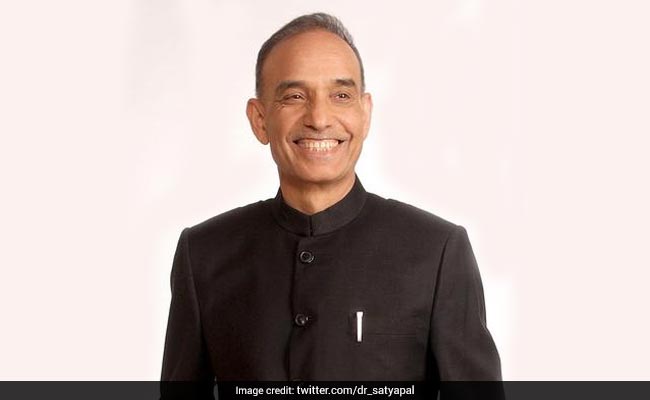 Highlights
Mr Satya Pal Singh said airplanes were among ancient Indian 'discoveries'
He believes Indian scholar Shivkar Bapuji Talpade invented the airplane
He also said this must be taught in IITs and other engineering institutes
New Delhi:
The first flying machine was invented by Indian scholar Shivkar Bapuji Talpade and not the Wright Brothers, Union Minister Satya Pal Singh insists, and he believes this must be taught in the Indian Institutes of Technology (IIT) and other engineering institutes.
Yesterday, the junior Education Minister of India was addressing a gathering of engineering graduates and diploma-holders in Delhi when he named the airplane among ancient Indian "discoveries".
"Why are students not taught that before the Wright brothers, an Indian called Shivkar Bapuji Talpade was the first to invent the airplane? This person invented the plane eight years before the Wright brothers. Are our students taught these things in IITs or not? They should be," Mr Singh said in his speech at the awards ceremony.
The former Mumbai Police chief, who studied chemistry in college, said IIT students should be taught about the 'Pushpak Vimaan', a flying chariot that is described in the epic Ramayana as the vehicle in which Ravana kidnapped Lord Ram's wife Sita, triggering the great war.
Elaborating on the theme of ancient inventions in India, Mr Singh went on to say: "Plants in the kingdom of the demon king Ravana were not watered as they contained Chandramani, a mythical elixir."
Congress leader PC Chacko, mocking the minister, said: "The idiocies of some ministers in Modi Cabinet are crossing all limits...This is good theatre for all IIT students by Satyapal Singh."
Earlier this year, Gujarat Chief Minister Vijay Rupani had equated the rockets developed by ISRO with the arrows of Lord Ram, and credited him for his "engineering skills" for building the mythical 'Ram Setu' between India and Sri Lanka.