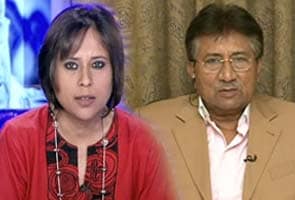 New Delhi / Dubai:
In an exclusive interview to NDTV, former Pakistani President General Pervez Musharraf says he will not deny that before the Kargil war in 1999, he crossed the Line of Control and spent the night with his troops 11 kilometres inside Indian territory in Kashmir, as alleged in a book written by a former colleague of his in the Pakistani army.
"I don't want to deny it. I don't know about the 11 kms. Yes, I have been in that sector. Certainly, I was in that sector and I have gone to the front in that sector. I will leave it at that," the General said to NDTV's Group Editor Barkha Dutt in an interview recorded from Dubai.
"An Army chief or an Army commander must be with the troops. That is my belief," the General said. "I don't lead from behind. I have never led from behind. I have led from the front. So therefore, I'm there. I, whenever the troops were involved, whether it was in Siachen or any place, I have been to the front, everywhere, all over Pakistan. That is my theory of leading and commanding. So in that, I was with the troops."
The revelation that as Army Chief just weeks before the two-month war in Kargil with India, General Musharraf had crossed the mine of Control was made in a book by a former army colleague, Colonel (retd) Ashfaq Hussain. When asked if he did not think it was significant that Pakistan's army chief entered India before a major conflict erupted, he responded, "Line of Control is violable, that is why you entered Siachen, right? Line of Control is not a permanent international boundary. This is the first part. Second point is, 'Why are you interested? I mean why should I say whether I was on the other side of Line of Control or not? I mean these are military matters, what difference does it make whether I went across or not?"
When he was asked if he denies Colonel Hussain's allegation, he said, "I'm not confirming, I'm not denying... but I'm telling you that I have been spending nights with my troops."