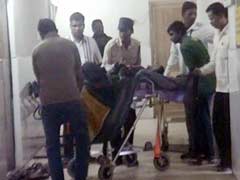 Bhubaneswar:
A team of the National Commission for Women (NCW) arrived in Odisha on Tuesday to probe the death of a woman teacher who was set on fire for allegedly refusing to withdraw a sexual assault complaint.
The two-member team comprising commission member Hemalata Kheria and Manasi Pradhan, after arriving at the Biju Patnaik International airport in Bhubaneswar, proceeded to Delanga area of the Puri district, the native of the killed teacher.
The team will meet the family members of the teacher and then go to Rayagada district, where the murder took place, a senior official of the state home department told IANS.
The team is also likely to quiz several people, including concerned officials, after examining a video footage of the teacher recorded before she died.
Itishree Pradhan died on November 1 in a private hospital of Visakhapatnam, four days after she was set on fire in a residential government school at Tikiri in Rayagada district, 420 kilometres from the state capital Bhubaneswar.
She had refused to withdraw a sexual assault complaint against a local school inspector, Netrananda Dandsena.
She was watching a television show along with some children when the assailant entered the school room, poured kerosene and set her on fire. Pradhan sustained more than 90 percent burn injuries.
Dandsena was arrested on October 30. The government dismissed Dandsena, a district inspector of school, and an investigating police officer and the head of the relevant police station.
The government handed over the case later to its crime branch police. The NCW team during its eight-day stay in the state is also likely to investigate several other cases of atrocities against women.