Mumbai:
Mumbai was grief stricken but calm as Sridevi, Bollywood's reigning queen in the 80s,
got ready for her final journey
. Carrying flowers and posters, teary-eyed fans stood in queue for a last glimpse of the actor, whose sudden death shocked the country on Sunday. Inside the Celebration Sports Club complex, Sridevi lay in a transparent casket, draped in a gorgeous red and gold Kanjeevaram, garlanded with roses. Longtime friend Rani Mukherjee stood next to the casket.
The film fraternity turned out in strength too to say their farewells.
After her visit, Hema Malini tweeted, "Paid my last respects to Sridevi. The entire industry was there grieving, some on the verge of breakdown. Such was her aura & magic in films. She lay there, beautiful in a red saree, serene in death & totally at peace".
Actors Aishwarya Rai Bachchan, Deepika Padukone, Sushmita Sen, Madhuri Dixit, Kajol, Sridevi's niece Sonam Kapoor, Tabu and others attended the morning's condolence meet.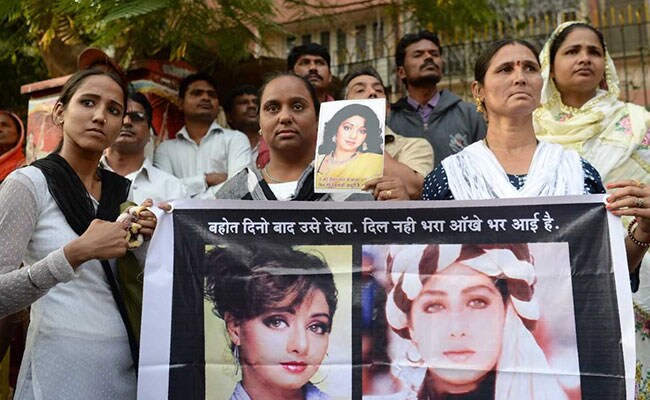 The funeral procession began at 2.30 pm after a puja.
Sridevi died on Saturday evening at a hotel in Dubai, where she had gone with her husband Boney Kapoor and younger daughter Khushi to attend a family wedding. Her death, initially thought to be a cardiac arrest, was caused by "accidental drowning", the Dubai police said after an investigation. Her body was flown into Mumbai last evening on a private aircraft after the formalities were completed.
Over the last few days, her former co-stars Rajinikanth, Kamal Haasan, Venkatesh, Jaya Prada, Shah Rukh Khan, Salman Khan, Akshay Kumar and Anupam Kher had visited the home of Anil Kapoor - Sridevi's brother-in-law and former co-star -- to pay their respects. Other visitors included Rekha, Madhuri Dixit, Deepika Padukone, Ranveer Singh, Shabana Azmi, Rani Mukerji, Tabu and Karisma Kapoor.
Get Breaking news, live coverage, and Latest News from India and around the world on NDTV.com. Catch all the Live TV action on NDTV 24x7 and NDTV India. Like us on Facebook or follow us on Twitter and Instagram for latest news and live news updates.