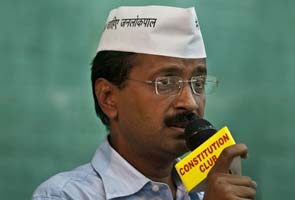 New Delhi:
In the second installment of his name-and-shame campaign, intended to highlight graft among political heavyweights, activist-politician Arvind Kejriwal on Wednesday accused BJP president Nitin Gadkari of grabbing 100 acres of land from some of Maharashtra's poorest farmers in collaboration with Ajit Pawar, leader of the Nationalist Congress Party (NCP).
(Read: Arvind Kejriwal's allegations against Nitin Gadkari)
The BJP is in opposition in Maharashtra, where the NCP is in an alliance government with the Congress. But all political parties collude to loot the people, Mr Kejriwal said, accusing Mr Gadkari of thoroughly compromising his obligation as a leader of the opposition for illegitimate favours. "Whose interests does Mr Gadkari represent?" asked Mr Kejriwal, accusing the BJP president of illicitly acquiring 100 acres of land for his companies in the Vidarbha region of Maharashtra. He also said that water from a local dam meant for farmers in the same area was being diverted to service a power plant run by Mr Gadkari's firm.
"This is a conspiracy to malign the BJP," said Mr Gadkari, adding that "land has been given on lease to a charitable trust which functions like a cooperative. It is not owned by me". He also said that sugarcane samplings are grown on the said land and sold at subsidised rates to farmers. "It's laughable to describe me as a businessman. I work for farmers. They are trying to defame me for their political gains," he said.
(Read)
|
(Watch)
Mr Kejriwal launched a political party earlier this month, a spin-off from the civil society group, India Against Corruption. Till Wednesday, they had been focusing on the alleged corruption of businessman Robert Vadra, the son-in-law of Congress president Sonia Gandhi.
Mr Pawar was forced to quit as Deputy Chief Minister of Maharashtra last month after allegations of a 70,000-crore irrigation scam on his watch erupted into a major controversy - the swindle centres on that money being spent on dams and canals that improved the state's irrigation ability by a negligible 0.1%.
The allegations by Mr Kejriwal add a new dimension to that scam. He says that the state acquired more land than needed for a dam in Umred, about 40 kms from Nagpur, in the region of Vidarbha, home to some of the poorest farmers in India. The rules require the government to return excess land to farmers - either by selling it back to them, or by leasing it to them. But instead, Mr Kejriwal says, in June 2005, Mr Gadkari wrote to Mr Pawar, asking for 100 acres of this unutilised land in Umred to be given to his company. At the time, Mr Gadkari was the president of the Maharashtra branch of the BJP.
Mr Kejriwal says that barely two weeks later, on 22 June, the nodal agency for irrigation in the region, the Vidarbha Irrigation Development Corporation (VIDC) agreed to Mr Gadkari's proposal for a 99-year lease. A senior bureaucrat pointed out this was illegal - that the irrigation department cannot lease or transfer land to private organizations. But he was over-ruled. The land was allegedly transferred to Mr Gadkari's firm in two tranches. The BJP said this was "wasteland", that all farmers had been compensated when their land was taken by the government, and that it was given with an 11-year lease for Rs 70,000 per year to a trust.
Mr Kejriwal said that two activists - Anjali Damania and a woman identified as Preeti - spent a month exhuming documents that prove how land that was acquired from farmers in Vidarbha for the construction of dams was made available to private companies, in violation of the rules.
Ms Damania was sued by Mr Gadkari last month for defamation. Ms Damania, who is Right to Information (RTI) activist, devoted months to exposing the scam that played out when Mr Pawar served a decade-long term as Irrigation Minister. She says that in August, she met with the BJP president at his home in Mumbai and sought his help in taking on the NCP-Congress government. She says he refused, telling her that he has close links to Mr Pawar's uncle, Sharad Pawar, the head of the NCP and Union Agriculture Minister.
Mr Gadkari denies that he met Ms Damania.
Mr Kejriwal says that after being sued, Ms Damania began looking for evidence of the relationship between Mr Gadkari and Mr Pawar - and the results are what was shared on Wednesday.