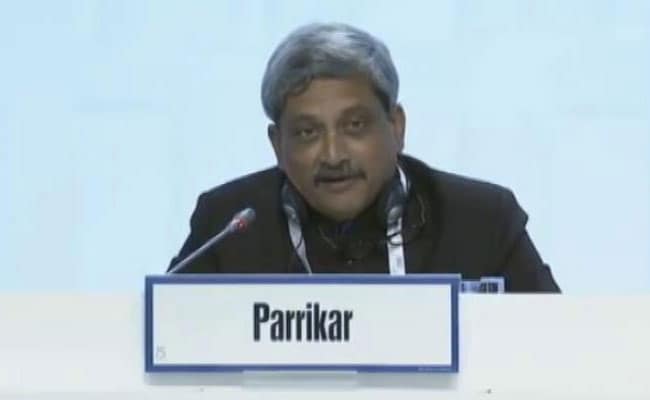 Highlights
PM Modi opened window of opportunities with Pak on his visit: Parrikar
Pak needs to develop trust that it wants to fight all terrorism: Parrikar
Ties between India and Pakistan seen resting over Pathankot probe
New Delhi:
Defence Minister Manohar Parrikar has said that while Prime Minister Narendra Modi had opened a window of goodwill and dialogue with Pakistan, it was now closing as doubts remained about its sincerity in tackling terrorism.
"Prime Minister Modi opened a window of opportunities when he visited (the) Pakistan Prime Minister. I think that window is slowly closing. Before it closes, Pakistan needs to develop that trust with India on its sincerity on the approach," he said.
"Pakistan separates terrorists between good ones and bad ones. They are after bad ones but the good ones are promoted to operate in Afghanistan and India. I think that needs to be tackled at a diplomatic level," Mr Parrikar said.
The Minister's comment at Shangri-La Dialogue, an inter-governmental security forum in Singapore, that referred to PM Modi's surprise visit to Lahore in December last year, was backed by a tweet from BJP national general secretary Ram Madhav.
Modi opened a window of goodwill n dialogue with Pak. But that window is closing - Warns Parikkar at Shangri La

- Ram Madhav (@rammadhavbjp) June 4, 2016
Despite a phone conversation between PM Modi and his Pakistani counterpart Nawaz Sharif ahead of the latter's heart surgery, ties between India and Pakistan have cooled in recent weeks over the probe into the terrorist strike on the Indian Air Force base in Pathankot in January.
Following a trip by a team of Pakistani investigators to the secure facility in Punjab,
Pakistan has not cleared a counter-request
for officers from India's premier investigation agency, the NIA, to visit Pakistan.
India's External Affairs Ministry yesterday had said the role of Pakistani nationals in the terrorist strike on the Indian Air Force base in Pathankot "is an accepted fact" while the NIA
refuted reports of exonerating the country's government
in aiding the terrorists.