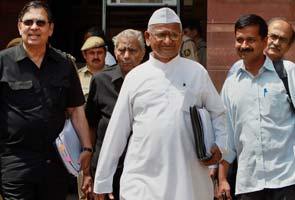 New Delhi:
They've gone out of their way to say they're not interested in entering politics but now it appears that Team Anna might just take that plunge.
Sources suggest that the team is considering fielding candidates for the assembly polls in Himachal Pradesh slated in October this year.
"Wherever we went, people asked us to contest elections and represent the people," explained Sanjay Singh a member of the Team Anna.
While what shape and form this decision may take is being worked out, there are still some members of the team who have shown apprehensions over the issue especially, their role if the results don't favour them. Also worrying for them is the impact on their campaign against corruption.
"We had talks on many issues. We also discussed how many people want us to contest elections, but we haven't decided anything concrete yet," said another Team Anna member Dr Vishwas Kumar.
Some see the possible move to go beyond just campaigning as an attempt to regain momentum especially after Anna's December rally in Mumbai failed to attract huge crowds.
The team's campaign urging people to only vote for honest candidates and candidates who back the Lokpal bill also didn't seem to have impacted the 5 assembly elections.
However the decision to either participate or not in Himachal polls could deepen the fissures in the team. Fissures that were revealed last Sunday, when a member, Mufti Shamin Qazmi was thrown out during a meeting for allegedly recording their meetings on his phone.
But that incident aside, for now, the team seems to be still dealing with Anna's decision last week to share the platform with Baba Ramdev in future campaigns.