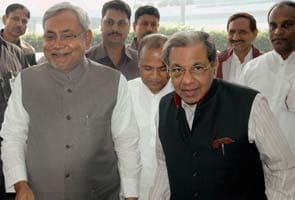 New Delhi:
Bihar Chief Minister Nitish Kumar's week-long visit to Pakistan begins today. His agenda includes political meetings, sightseeing and possibly tea with Imran Khan, who hopes to be Pakistan's next Prime Minister and has said he has a learnt a lot from Mr Kumar's political mantra.
Mr Kumar is visiting Pakistan on the invitation of an all-party parliamentary delegation from that country that visited Bihar in August this year. He heads an 11-member delegation which includes the Bihar Assembly speaker and various ministers in the state government. Mr Kumar will visit Karachi, Islamabad and Lahore and the historical cities of Mohenjodaro and Taxila.
Former cricketer Imran Khan, who heads the Tehreek-e-Insaaf, an opposition party, has invited Mr Kumar for tea. He has been vocal about his admiration for the Bihar Chief Minister, whose Janata Dal (United) rules Bihar in partnership with the BJP.
In an interview to NDTV in September this year, Mr Khan had said, "People are sick of the old political parties. They have taken turns over the last 25 years and they have taken turns to fall to the depths of bad governance. The whole thing hinges on governance. I was reading about Nitish Kumar in Bihar and the secret of success is that you provide good governance, provide enabling environment for investment, prosperity, people are happy."
Elections are due in Pakistan by nearly next year and Imran Khan believes this could be his chance to form government. He has attributed Nitish Kumar's success in Bihar to "clean government and transparency" and says his is the only party in Pakistan which follows such a mantra. "All our central executive members have declared their assets and we put them on our website and that's what Nitish Kumar did," Mr Khan had said in the interview.
Comparisons with Nitish's arch rival Lalu Prasad Yadav's 2003 visit to Pakistan are inevitable. Mr Yadav had visited as part of a 30-member delegation, but Pakistan singled out the former Bihar Chief Minster for fawning attention. And Mr Yadav had floored Pakistanis with his witticisms, attention to detail and rustic charm.
Mr Kumar's trip is likely to be more sedate. He is expected to meet other top political leaders in Sindh and Punjab, before crossing over to India on November 11, at the Wagah border in Punjab. He is flying into Karachi via Dubai.
During his stay in Pakistan, Mr Kumar is likely to meet the Muttahida Qaumi Movement leadership in Karachi. The party consists mostly of those whose forefathers migrated to Pakistan from India.