Chandauli, Uttar Pradesh:
The son of a senior minister in Uttar Pradesh Chief Minister Yogi Adityanath's cabinet said that he will cut the hands of those who touch women and girls inappropriately. Arvind Rajbhar, son of Uttar Pradesh minister Om Prakash Rajbhar, was addressing a group of locals in Chandauli district on Monday when he condemned crimes against women.
"I will cut the hands of those people who touch women and girls inappropriately," the junior Rajbhar said at a public gathering.
Arvind Rajbhar's father heads the Suheldev Bharatiya Samaj Party, an ally of the BJP government in Uttar Pradesh.
"Om Prakash Rajbhar had said earlier that unless there are stringent laws in place, these dirty-minded people will always be around," Arvind Rajbhar said, as the villagers - women, men and children - sitting around him clapped.
He then went on to praise Prime Minister Narendra Modi, praising the
union cabinet's move to clear the ordinance for death penalty for child rapists
He then went on to suggest that his father has chances of becoming the chief minister of Uttar Pradesh in the future. "The way all of you have gathered here, the day won't be far when Om Prakash Rajbhar will sit on the chief minister's chair," said Arvind Rajbhar, who reeived another round of applause from the villagers.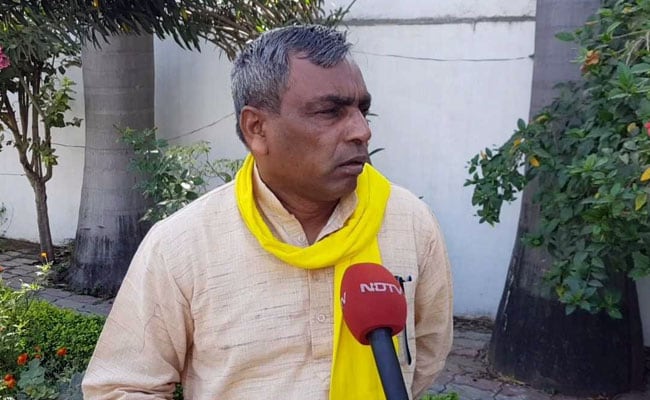 Om Prakash Rajbhar is known for making controversial statements and speaking out openly against the Yogi Adityanath and the ruling BJP. His latest one was a
bizarre warning to those attending rallies of his political rivals
that they will be "cursed" with jaundice.
"He is my captain and I follow his directions," Mr Rajbhar said recently.
When Yogi Adityanath government completed a year in power in March this year
, he skipped the celebrations. "Celebrating and talking about building temples in Mathura and Kashi mean nothing. No one else has the guts to question this government. If speaking the truth is revolt then I am revolting," Mr Rajbhar had said.