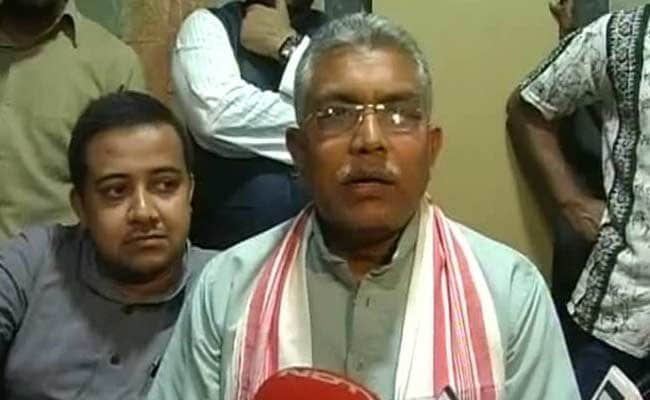 Highlights
BJP leader threatens to behead those making anti-national statements
BJP's West Bengal chief Dilip Ghosh made comments at a meeting in Birbhum
1 person killed by mob in Birbhum protesting a Facebook post
Kolkata:
In the season of controversial speeches, a BJP leader in West Bengal has used a public forum to threaten beheading for those shouting anti-national slogans.
Dilip Ghosh, the BJP's Bengal chief, warned yesterday: "Anyone who raises slogans of 'Pakistan Zindabad' will be chopped by six inches from top."
He was addressing a meeting of party workers at Birbhum, where there were clashes on Tuesday over a Facebook post by a student.
One person was killed when a mob allegedly attacked a police station and damaged vehicles in protest against the post.
The student was arrested on Monday night. A mob reportedly protested outside a police station on Tuesday and demanded that the student be handed over to them. The protesters allegedly attacked the police station and also blocked roads.
Earlier this week, two more party leaders have been accused of making inflammatory speeches.
Union Minister Ram Shankar Katheria has provoked anger with his remarks at a public meeting in Agra: "This conspiracy that is being hatched against the Hindu community, we have to be alert to recognise it and strengthen ourselves. We will have to fight it because if we do not do it now, today we have lost one Arun, tomorrow it could be another Arun...the killers should also go, we have to set such an example".
Mr Katheria, the minister of state for Human Resource Development, was speaking at a condolence meeting for VHP leader Arun Mahaur, who was killed last week.
Another BJP lawmaker, Babu Lal, allegedly made incendiary remarks at the same meeting. He has been named in a police complaint.