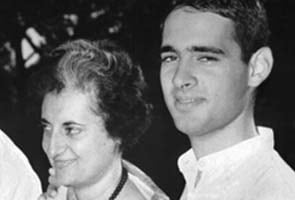 New Delhi:
A cable sent by US diplomats who recorded how Sanjay Gandhi "abandoned back corridor politics to step into the public limelight" may seem prescient for those who are cynical of the recent anointment of Rahul Gandhi as Vice-President of the Congress at the party's Jaipur conclave this year.
Titled "Sanjay Gandhi: Heir Apparent", the cable dated January 1976, during the Emergency in India, recounted Sanjay Gandhi's projection as the "prime attraction" at a Chandigarh party meeting. US officials noted there was "little if any doubt that, with maternal support, (he) is attempting to position himself for India's top job."
(Read the full cable)
At the session, the cable noted, Mr Gandhi was strategically seated and spoke frequently, sought out often by government functionaries and high-profile Congress leaders in "well orchestrated" conversations, in "full view of the four thousand strong audience."
It also described his "attractive ex-model wife, Maneka" who, the cable said, "occasionally spiced up his personal conversation group."
Chief minsters, it said, jostled to be photographed with Mrs Gandhi's younger son, and noted that his security was as tight as that of his mother, who was the Congress chief and India's Prime Minister.
In a promotion gimmick, the US embassy reported, "Sanjay flew over neighboring villages in a colorful hot-air balloon, waving to cheering people and showering down handbills containing his mother's picture and her twenty point program." A wry statement in parentheses added, "At the end of the session, the India hot-air balloon society announced that the prime minister had agreed to become its patron."
But the excesses of 21 months of Emergency cost the Congress the next elections in 1977.
The party returned to power in 1980, but Sanjay Gandhi died in a plane crash on June 23 that year.
His wife, Maneka Gandhi, is a BJP leader today.