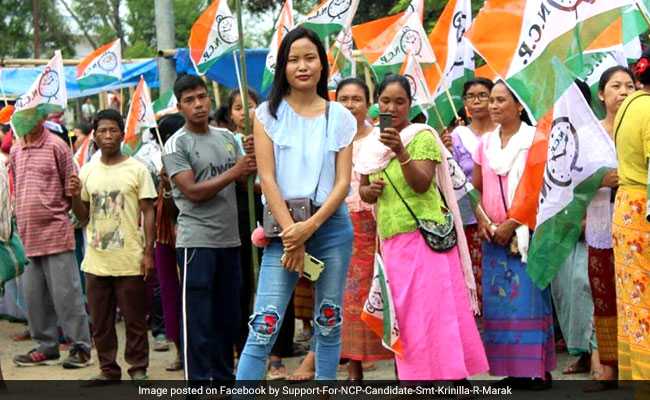 Tura:
Krinilla Marak, the wife of NCP leader Jonathone N Sangma, killed in an IED blast on February 18, has stepped into her husband's shoes and filed nominations recently for the April 27 election to Williamnagar assembly constituency.
The polling to the seat in East Garo Hills district of Meghalaya was countermanded after Jonathone N Sangma
was killed two weeks ahead of the state elections
.
Ms Marak feels the Nationalist Congress Party ticket has given her a "sense of hope and a purpose in life".
"Jonathone's incomplete dreams are my guiding light. He wanted to change the situation for better in Williamnagar. He wanted to empower the people of the constituency - the same people who he loved
and died for
. I wish to take it up from where he left," she said.
The NCP candidate has been holding campaigns across the constituency with party president Saleng A Sangma by her side.
"I am not a political novice as people would want to believe. I have been a part of almost all the campaigns undertaken by my husband. We discussed strategy and campaign points together. I supported him in his earlier bids for the assembly too," Ms Marak asserted.
Ms Marak said she wants to live up to the expectation of the people of Williamnagar, just like her husband
"Anyone who came to him did not go back disappointed.
"Now, we want to continue his legacy," she added.
The NCP candidate is currently one of the front runners for the Williamnagar seat.
The constituency will witness a contest among nine candidates, including Deborah C Marak of the Congress, Marcuise Marak of the NPP, SR Marak of the BJP and Mahamsing Sangma of the UDP.
"We are confident of winning the election as the people of Williamnagar wanted to see my husband as their MLA.
The present legislator of the constituency, Deborah C Marak, and the former MLAs have failed to inspire confidence amongst the voters as they lacked vision.
"We will ensure that the promises made by my husband to the voters are fulfilled under all circumstances," Ms Marak signed off.