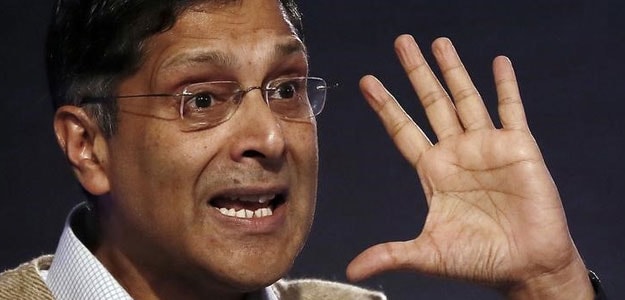 NEW DELHI:
The Centre doesn't have the power to impose a tax on agriculture income but it doesn't mean that it can't have a view. On Friday, Chief Economic Adviser Arvind Subramanian waded right in the middle of a raging debate on the topic, batting for introduction of a tax on farm income.
His remarks come days after his boss, Finance Minister Arun Jaitley rushed to clarify that
the Centre had no plans to tax farm income
. It couldn't; he said, since the Constitution had authorised only state governments to tax agriculture.
The minister's adviser agreed. But he asked why none of the 29 state governments had done it. It was a rhetorical question. Mr Subramanian went on to give the answer: "Our political discourse doesn't allow us to do that".
But batting for introducing the tax, he did raise some questions.
Why is it so difficult to make the distinction between rich and poor farmers, he asked. The economist argued the government shouldn't concern itself what the source of income was and there was certainly no harm in taxing rich farmers too.
Possibly farmers like Shyamlal in Punjab's Mohali. He has 30 acres farm land, makes about 2-2.5 lakh a month and employs over a dozen labourers. "If we had a fixed income, we wouldn't have a problem paying taxes. But sometimes we incur heavy losses too... it depends on the crop," he said.
Mr Subramanian is the second economist in the government to make out a case for taxing agricultural income. The first was Niti Aayog member Bibek Debroy, whose remarks a few days ago have triggered the latest debate.
Mr Debroy had asserted that the "eventual answer" to expanding the tax base was "to also tax the rural sector including agricultural incomes above a certain threshold". This was the comment that Mr Jaitley was trying to distance himself from.
As expected, Virender Singh Mast, president of the BJP Kisan Morcha, opposed the suggestion. "I know that some people evade taxes by resorting to farming .. small farming ... Go after them. But those who are pure agriculturalists... why this futile debate?" he said.