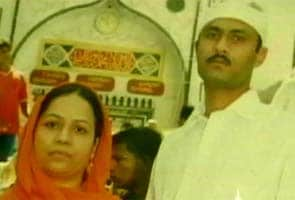 Ahmedabad:
Who was Sohrabuddin Sheikh, the man whose death five years ago is threatening to blow up into a political storm of enormous proportions?
The answer is likely to depend on who is talking. Some say he was a police informer turned rogue. Others say he was an extortionist who had angered influential people in the builder lobby in Gujarat and the marble lobby in Rajasthan. Some still say he was a terrorist.
What is not in dispute is that Sohrabuddin was in his mid-thirties, belonged to Jharnia village in Madhya Pradesh and was an established criminal. He operated in Udaipur, Ahmedabad and Ujjain.
What is also not in dispute is that on November 23, 2005, Sohrabuddin was travelling with his wife Kauser Bi from Hyderabad to Sangli in Maharashtra. Mid-way, the Anti-Terror Squad (ATS) of the Gujarat police stopped the bus and took them away.
The couple was kept locked at a farmhouse outside Ahmedabad. Three days later, a police team led by the ATS Chief DG Vanzara took Sohrabuddin away and killed him, claiming he was a terrorist trying to attack Gujarat Chief Minister Narendra Modi.
Sohrabuddin's wife Kausar Bi went missing. A state CID report said she was last seen a white Maruti car with Gujarat policemen in plain clothes. The Gujarat government later said Kausar had been killed and her body burnt.
A year later, on December 28, 2006, Sohrabuddin's partner in crime, Tulsiram Prajapati, was also killed by the Gujarat police in an encounter in Banaskantha. Investigations reveal that he knew about the Sohrabuddin encounter.
Since then it has been established that policemen of three states, Andhra Pradesh, Rajasthan and Gujarat carried out the killings at the behest of political bosses to silence men who knew too much.
After the arrest of senior IPS officer Abhay Chudasama in the case a few months ago, the CBI alleged that the policeman ran an extortion racket with Sohrabuddin Sheikh and was the prime conspirator in his abduction and murder. The investigative agency said Chudasama had been using Sohrabuddin since 2001 in to extort money from traders.