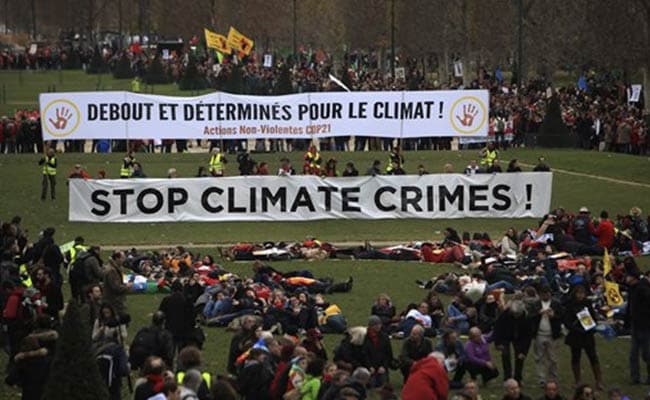 Paris:
The climate deal brokered in Paris has been hailed from all quarters as a groundbreaking document - managing to bring on board 195 nations for a blueprint to successfully cut down on emissions. What made this an elusive goal was the long tussle between the developed and the developing worlds over who should bear the burden of responsibility.
Asked why India made compromises,
Environment Minister Prakash Javadekar told NDTV
, "To achieve big things you need to be accommodating without changing the meaning and thrust of agreement and that is success."
Here is what India and the other developing nations had to compromise on:
The original UN convention had a stronger language on developed world providing climate finance. Experts say current text is weaker. It also leaves room for confusion on what can be counted as climate funding - for example, developmental aid or loans can be counted as climate finance. Mr Javadekar, too, said the agreement could have been more ambitious as the actions of developed nations are "far below" than their historical responsibilities and fair shares. Most civil society experts say the dilution was made following tremendous pressure from US - which is facing issues with domestic politics - and an umbrella group of developed nations.
Paris agreement says all parties -- including developing nations -- must take action to cut emissions. This means makes developing nations must take on additional obligations.
For developing countries, intellectual property rights barriers to transfer technology from rich countries were important. But the Paris text is more about cooperation in technology.
In terms of loss and damage, the text says these will not be seen in terms for liability and compensation, so developed countries will not have no real obligation.
This is what India and the developing nations achieved:
Managed to put back the important principle of equity and "common but differentiated responsibilities" in text, which India has been pushing for. The US and developed nations wanted to dilute this plank.
Though developed countries use fossil fuel -- coal and gas -- they wanted developing countries to cut emissions. It is still not clear if the developed nations will be forthcoming with funds and technology for clean energy or the modalities if they do.
The big challenge met was ensuring the agreement established the idea of climate justice - acknowledging that industrialised nations have been the major emitters since 1850.
India also wanted a mention of sustainable lifestyle and consumption, which is there in the text.