Ahmedabad:
Highlights
Hardik Patel wants Congress to detail quota offer for his Patidar caste
Issued, then withdrew threat to jeer Rahul Gandhi if offer was not ok
Will meet Congress delegation led by Kapil Sibal tomorrow
Hardik Patel, 24, will meet top leaders of the Congress tonight to suss out if they can remain a political team for this December's election in Gujarat.
About a week ago, Hardik Patel told the national party that by tomorrow, it must lay out how it plans to include his community - the powerful Patels or Patidars of Gujarat - among castes that are entitled to affirmative action policies.
He
backed his deadline with a warning
that he would disrupt rallies led by Rahul Gandhi as he campaigns across Gujarat if the Congress did not expressly support his demand for reservation for Patels. However, after some back and forth with the Congress, he said his threat stood cancelled till tomorrow's conferral.
The Congress will be represented at tonight's meeting by noted lawyer Kapil Sibal and others in the party who are considered constitutional experts. Hardik Patel is expected with an entourage of 10 aides.
Sources in the Congress suggested that Kapil Sibal will offer details of how the Congress plans to handle the Patels' demand for a guaranteed share of government jobs and seats in state-run colleges. Gujarat already reserves 50 per cent of these for backward castes, which is the upper limit set by the Supreme Court.
In attempts to circumvent the 49.5 per cent limit, some states have attempted to include more castes by claiming they qualify because of economic hardship, rather than because they were traditionally discriminated against. These endeavours have been rejected by courts.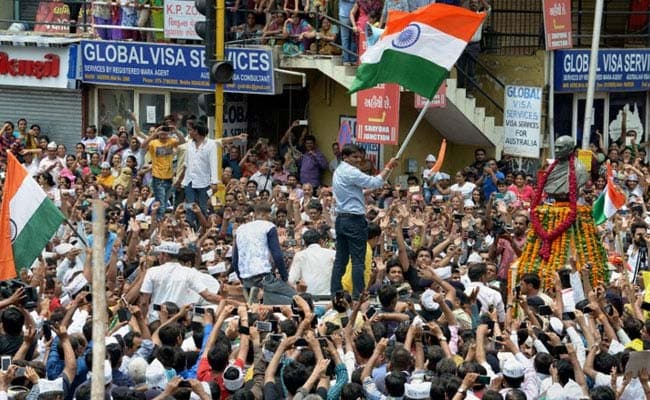 Presenting the Patels as an economically backward group would be unlikely to survive a legal challenge -- the community, which forms about 14 per cent of Gujarat's population, was traditionally land-owning and prosperous. For decades, it supported the BJP, which has held charge of Gujarat for 22 uninterrupted years. But in 2015, Hardik Patel mobilised the community against the BJP, alleging that as Gujarat turned toward industrialisation, the Patel youth was excluded from education and job opportunities, the bulk of which went to lower or backward castes.
His claim resonated across the caste, though recently, some groups within have criticised him for being too soft in his negotiations with the Congress and have warned that they will not accept any offer that is premised upon them being accepted as an economically deprived group. Instead, they say, Hardik Patel must push for the Patidars to be included in the Other Backward Classes, which are entitled to 27 per cent of reserved jobs.
Hardik Patel has vowed to support the Congress in December's election, which, according to early opinion polls, will be won again by the BJP. However, he has so far not decided on whether he will campaign for the Congress or continue to present himself to voters as a loose affiliate of Rahul Gandhi, which protects him from being decried by other parties, including the BJP, as "the B-team of the Congress."
Gujarat votes on December 9 and 14; results will be counted, along with that of Himachal Pradsh, on December 18.
Follow NDTV for latest election news and live coverage of assembly elections 2019 in Maharashtra and Haryana.
Subscribe to our YouTube channel, like us on Facebook or follow us on Twitter and Instagram for latest news and live news updates.