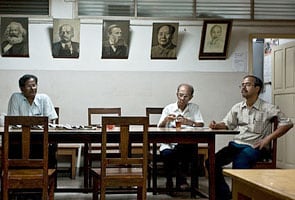 Kolkata:
Lenin's statue still rises near the center of the city, and portraits of Stalin and Marx still hang inside the biggest union hall.
Anyone doubting the local political dominance -- and cold war humor -- of India's Communists need only visit the street in front of the United States Consulate: It was long ago renamed for Ho Chi Minh.
In the past 33 years, India's Communists have built a political dynasty here in the state of West Bengal, staging one of the most remarkable runs in any democracy by winning seven consecutive statewide elections.
This would seem to be a ripe moment to expand their influence: India is a nation of deep inequities, with millions of destitute farmers and laborers disconnected from an increasingly capitalistic economy.
Instead, the country's Communists are struggling to remain relevant. For years, they have largely failed to capture the imagination and the support of the masses beyond their regional strongholds of West Bengal and the state of Kerala. And now even their three-decade hold over West Bengal is disintegrating as critics accuse them of betraying the rural peasantry and presiding over the decline of a state once regarded as an intellectual and economic center of India.
"I never thought I would write against them," said Mahasweta Devi, one of West Bengal's most famous intellectuals and a social reformer who is now deeply critical of the governing Left Front coalition, which is led by the Communists. "Leftist politicians are losing the battle because they have not cared enough to deliver the goods to the people."
Only six years ago, the Communists were kingmakers whose support enabled the Congress Party to form a rickety coalition national government. But that influence has steadily diminished; the Communists were trounced in the 2009 parliamentary elections and are facing the strong possibility of losing control of West Bengal in statewide elections next year.
Now the Congress Party is allied with Mamata Banerjee, the fiery political leader whose Trinamool Congress Party is favored to unseat the Communists next year. At the same time, Maoist rebels in the West Bengal countryside are a constant source of agitation. Analysts trace the Communist decline partly to the inevitable excesses of any party so long in power.
Institutions like the police, schools, universities and hospitals have become deeply politicized, critics say.
But the Communists have also been undermined by the same volatile political forces reverberating elsewhere in India, where industrialization is fueling conflicts over the control of land.
From the Writers' Building in Calcutta, known as Kolkata in India, the British once ran colonial India. But in the hulking red brick edifice, which now serves as the seat of power in West Bengal, there is the feel of the last months of another crumbling empire.
"I don't think it is a crime to be in government for 33 years with the mandate of the people in a parliamentary democracy," said Dr. Surjya Kanta Mishra, the state minister of health, sighing when asked whether the Left Front coalition had held power too long. But, he conceded, "there has been some erosion in our support base."
To a large degree, the Communists' problems are rooted in their early success. When a Communist-led coalition of leftist parties took power in 1977, they began a sweeping campaign that redistributed land to small farmers and codified legal protections for tenant farmers.
Today, roughly 84 percent of rural land in West Bengal is owned by ordinary peasants, compared with a national average of about 43 percent. Politically, the Communists also sought to decentralize power by establishing village-level assemblies known as panchayats, a model that has since been emulated nationwide.
"It has been the poor and marginal farmers who actually gained the power in rural areas," said Nirupam Sen, the state's commerce minister, who, like other leftists, argues that the new land policies broke a feudal structure that had existed for centuries.
Yet distributing land into smaller parcels has brought new challenges, as families have kept growing while immigrants have flowed into West Bengal from poorer states, as well as bordering Bangladesh. West Bengal is a top producer of rice and other crops, yet anchoring the economy around agriculture saw the state steadily slip in national rankings of economic output."Land holdings are getting smaller and smaller," Mr. Sen said. "Therefore, what is the next stage? You have to go to industry."
When the Communists won re-election in 2006, the chief minister, Buddhadeb Bhattacharjee, campaigned on a pro-industry slogan of "Destination Bengal," promising to attract factories and jobs. Since then, development officials say the number of Internet technology jobs has nearly tripled to more than 100,000, despite a perception that the state has largely missed India's economic boom.
But it was the highest-profile industrial project, a planned car factory for India's most famous corporate conglomerate, Tata, that became a debacle as farmers revolted against the land acquisition -- and political opponents like Ms. Banerjee pounced on the story line that the Communists had sold out the peasants.
"They talk about the farmers, but they are the party and the government who take away land forcibly," said Partha Chatterjee, a top Trinamool Congress official, who is leader of the opposition in the State Assembly.
The Tata factory was canceled in 2008 and plunged the Left Front coalition into recriminations and re-examination. Meanwhile, outside critics blamed Communist leadership for a broader governance breakdown, saying that the quality of institutions had eroded as party loyalty and ideology became paramount.
Laveesh Bhandari and Bibek Debroy, economists who together wrote a critical 2009 report, documented a steady slippage in performance from policing to health care to education, finding that the state had fallen behind in school dropout rates, in average class size and in jobless rates for those who manage to get an education.
"For all the talk about equity and removal of inequalities, the West Bengal government hasn't been able to improve the lot of the people in the worst-off and backward districts," they wrote.
West Bengal voters will decide on the Left Front next year. In political circles, Ms. Banerjee is rated a strong favorite, though few analysts discount the Communist political machine. Yet the prospect of defeat is already inspiring introspection.
"Marxist politics has come to a critical juncture," said Kshiti Goswami, the public works minister and a member of one of the smaller parties in the Left Front. He argued that India had a "historical need" for the Left Front but that his fellow Marxists needed to examine why Communism had fared poorly in other states compared with caste-based parties.
"What is the way?" he asked, suggesting that Latin America might offer clues. "How it can be done is a great question. That is why this is a historic juncture."
Get Breaking news, live coverage, and Latest News from India and around the world on NDTV.com. Catch all the Live TV action on NDTV 24x7 and NDTV India. Like us on Facebook or follow us on Twitter and Instagram for latest news and live news updates.