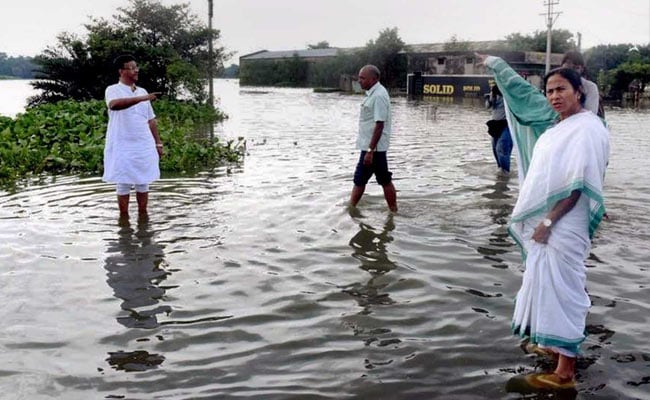 Malda:
Around 152 people have died and 1.5 crore hit by the floods in West Bengal said Mamata Banerjee on Monday. The Chief Minister also demanded a central government package for her flood-hit state, on the lines of the grants given to BJP-ruled Assam and Gujarat.
"Centre has given a package of Rs 2,000 crore to flood-hit Assam, also a package has been given to Gujarat. I have no objection. I want all states to get central help. But fury of the floods is no less in Bengal than Gujarat and Assam.
"We will also send a detailed report. We want we be given whatever is our due," she said in Malda while on a visit to the flood-affected areas of three north Bengal districts.
Ms Banerjee alleged that she had earlier written to Prime Minister Narendra Modi a multiple times on the issue of the Ganga river erosion in parts of the state, but the Central government did not act.
Hitting out at the Centre, she said it should undertake proper dredging of barrages.
"But there was no proper dredging of the Farakka barrage, same with the Damodar Valley Corporation barrages," she said.
Ms Banerjee alleged that the fresh wave of floods in northern West Bengal was caused after an embankment in Bihar's Purnea district was "broken".
The state government has lodged an official complaint.
"In Purnea, an embankment was broken. I didn't know about this. One District Magistrate told me. We have lodged an official complaint," she said.