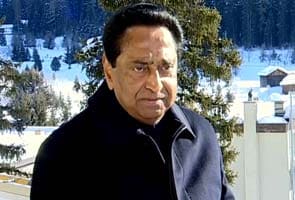 Davos:
Parliamentary Affairs Minister Kamal Nath, for the first time, made it clear that Rahul Gandhi was the Congress party's choice to be the prime ministerial candidate for the 2014 general elections. Speaking exclusively to NDTV, Mr Nath said, "I think, everyone in the party, there is consensus that they would like to see Rahul Gandhi... it is not like there are names floating around. There is one single name."
He added the familiar Congress disclaimer that it is up to Mr Gandhi to take that decision. "It is for him to decide (to be the Congress' PM candidate), but if you ask me personally... and every section of the party would like to see him. Now it is up to him to take that decision," he said.
The Parliamentary Affairs Minister said that working out the relationship between party president Sonia Gandhi and Rahul would not be a problem. "Rahul Gandhi is the Vice President, Mrs Gandhi is the President of Congress. He would be taking off some of her load by playing a much more active role... There has to be a transition from one generation to another and I think that transition has taken place," he said.
When asked by NDTV whether Rahul Gandhi has enough experience to be the prime minister, Mr Nath said Gujarat Chief Minister Narendra Modi, who many see as the front-runner to be the BJP's PM candidate, hadn't even been a minister before moving to Gujarat, so Rahul has enough experience. "I think he (Rahul) is absolutely ready. And when saying ready or not ready, when Mr Modi went (to Gujarat) as chief minister he hadn't been a minister his life. When Mr Vajpayee became prime minister, he had not held many ministerial positions before. So one cannot take this - what is ready and what is not ready."
On the recommendations by the three-member Justice JS Verma panel on reviewing sexual crime laws, Mr Nath said that the government will try to bring in a bill reflecting the recommendations as soon as possible, perhaps even by the budget session of Parliament. "It is a priority... In the first half of the Parliament session that is a major priority," he said.
Mr Nath said the budget session was going to be a really busy session and that he was going to try and push through the crucial land acquisition bill and, perhaps, the food security bill. "I see that we are going to have a very constructive Parliament session... (Land acquisition and Food Security) both are absolute priorities (to push through in the budget session)... the insurance bill, the pension bill, these are all priorities," Mr Nath said.
The Parliamentary Affairs Minister is leading the Indian delegation at the World Economic Forum at Davos. He wasn't at Davos last year when there had been a real dip in the India story and a negative perception about the path that India was taking. Mr Nath said that selling the India story would be much easier this year after the recent reforms push by the government. "India is back and more is coming," he said.
But while the perception of India may have improved in the recent months, a lot of participants that NDTV has been talking to say the recent reforms won't be a pat on the back and the government will have to take many other steps that are needed.