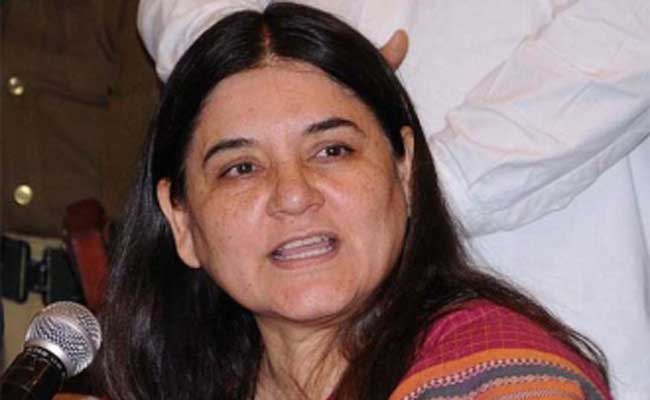 New Delhi:
Union Women and Child Development Minister and animal rights activist Maneka Gandhi is moved by the appalling evidence of elephant torture and trauma brought out by "God in Shackles", a critically acclaimed documentary exposing the abuse of Kerala's captive elephants. She says elephant rescue centres were the need of the hour.
"Gods in Shackles", directed by Canada-based Sangita Iyer, portrays stories behind the veil of Kerala's prestigious temple festivals.
The film was screened for public at PVR Rivoli here on Saturday, read a statement.
Maneka Gandhi said: "Over 800 elephants have died in the last two years of beating and starvation in Kerala. To say that elephant is thriving in India, it is not. There are less than 20,000 left, of which Kerala is killing as many as it possibly can. Begging elephants must get off the road. We must have elephant rescue centers. The Kerala Government has to take a decision now -- to keep killing these endangered species or take action to rescue them."
She added: "We have strong laws in place. Wildlife Act is a strong law but if Kerala Government chooses to ignore it, what can we do. It is because of the strong stance that the Atal Bihari Vajpayee led BJP Government took to rescue and rehabilitate bears that they are finally off the road."
Ms Iyer shared that "people are so blinded by greed and selfishness that they are unable to see the pain and suffering of another sentient and supremely intelligent animal".
She said: "Asian elephants are exploited all across India. They are tortured and traumatised in circuses and zoos, and worse yet by the temples under the guise of religion. How ironic it is to even think that gods creations are tortured in temples, where people believe gods live."
The documentary has been nominated by the International Elephant Film Festival at the United Nations General assembly and has won seven international film festival awards including the Los Angeles Cinefest Award, Hollywood International Independent Documentary Film Festival Award, The IMPACT Docs - Award of Merit, Golden Award at the World Documentary Awards.
(This story has not been edited by NDTV staff and is auto-generated from a syndicated feed.)