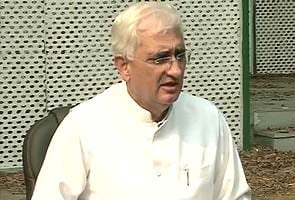 New Delhi:
Foreign Minister has said New Delhi must accept China's growing presence in its own backyard as Beijing steps up its investments and diplomatic efforts in South Asia.
New Delhi has been wary of growing Chinese influence around the Indian Ocean, where Beijing has forged ties with Sri Lanka, Bangladesh, the Maldives and military-ruled Myanmar, often through funding and building infrastructure.
Speaking at a conference in New Delhi on Monday, Salman Khurshid said: "We will have to accept the new reality of China's presence in many areas that we consider an exclusive playground for India and its friends.
"China for instance would give a right arm to be in the Indian Ocean as comfortably as India is placed in the Indian Ocean... this is an important critical factor for what we will see as the emerging Asian century," he said.
Khurshid, 59, was appointed Foreign Minister just over six weeks ago amid expectations that he would bring a fresh approach to a decades-old diplomatic strategy that has favoured caution over ambition.
The minister, whose speech was sent to AFP by the foreign ministry, said that India needed to develop its relationship with China into a meaningful partnership in the coming years.
"China is aggressive. China is a partner for us. China is a neighbour for us... the real creativity in India's foreign policy will come in being able to combine the strengths of China with the strengths of India," he said.
Relations between India and China, which have an unresolved border dispute, are often prickly and marked by mutual distrust, a legacy of a brief border war in 1962.
India's navy chief said last week that Beijing's growing maritime strength was a major cause for concern and New Delhi needed to adapt its strategy accordingly.
China, which put its first aircraft carrier into service in September, has been locked in a series of territorial disputes in the South China Sea and has warned India about investing there.
India signed a pact with Vietnam last year to expand oil exploration in the sea.