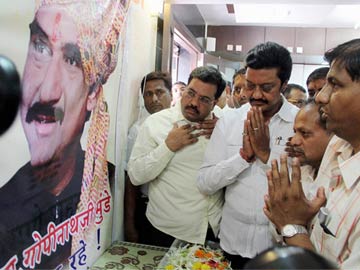 Beed, Maharashtra:
There is a sense of shock and disbelief in Nathra, a 2500-strong village, 20 km from Parli taluka in Maharashtra's Beed district. Their most famous son Gopinath Munde, who was born in this village and went on to become the biggest leader of the BJP in the state and subsequently taking charge as the Union Rural Development Minister is no more.
Beed was being decked up to welcome Mr Munde on Wednesday - his maiden visit after a thumping majority for his party in the national election. Large cutouts, banners and posters welcoming the BJP leader's visit to Parli were put up across the city. The Totla ground, where Mr Munde was supposed to be felicitated, was all ready for the grand ceremony. But as the news broke early this morning, people couldn't believe that destiny could be so cruel.
Now, the same ground which was to be used for felicitating Mr Munde, will be used to mourn his death. Mr Munde's body will be kept there for people to pay their last respects.
Govind Munde, a 24-year-old from Nathra who is pursuing Bachelor of Arts is one of the groups of youth who were flown to Delhi to witness the swearing-in ceremony of their leader.
"We just can't believe this. We have lost our mentor, father figure. The incident has made us all orphans," he said crying inconsolably.
Ramrao Munde (55), another close cousin of the deceased leader, who resides next to Mr Munde's ancestral house, said, "We got a call from Aurangabad informing us about accident but we didn't believe it. We then called the electricity office asking them to switch on the power supply and we turned on the television to learn about the sad demise of our hero. He was our identity.
Not only people in Beed, where Mr Munde hailed from, but many other cities and towns in Maharashtra downed their shutters only to be glued to television news coverage of his death.
The town in jubilation has gone into complete mourning.
Get Breaking news, live coverage, and Latest News from India and around the world on NDTV.com. Catch all the Live TV action on NDTV 24x7 and NDTV India. Like us on Facebook or follow us on Twitter and Instagram for latest news and live news updates.