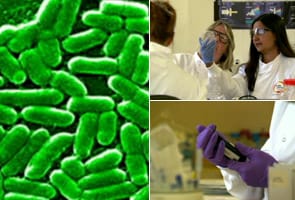 New Delhi:
Did the superbug evolve in India and has medical tourism contributed to its spread across the world? Closer reading of the research paper published in the British journal
Lancet Infectious Diseases
presents a very different picture. Suggestions that India is the fountainhead of this drug resistant bug are probably erroneous. (
Read: Asian super bug hits the UK
)
Evidence suggests that the bug may possibly have been inadvertently introduced into India. (
Read: Government refutes Lancet report on superbug study
)
Out of the 37 samples collected in UK, only 17 samples had history of travel to India or Pakistan. So, a question arises as to where did the rest 20 people contract this superbug?
Also, the authors themselves admit that there is no genetic similarity between the UK and Indian strains. And the very first alert issued by the UK government on January 30, 2009, makes no mention of India. Instead, it lists presence of the bug in Greece, USA and Israel.
Moving on to the other part: If medical tourism is to blame for the spread of this super bug, how come Rohtak, Guwahati, and of all places Port Blair, are home to the bug and find mention in the research? They are not certainly hot destinations for medical treatment. (
Read: Superbug named after New Delhi bugs India
) | (
Read: Govt clarification on 'superbug' traced to India
)
Confirming this to NDTV, Director General, Indian Council of Medical Research, Dr V M Katoch said India may have actually been a victim of this bug, since it is spontaneously evolving all over the world.
"India is definitely not the source of origin of this so called superbug, it is omnipresent across the globe," Katoch said. (
Read: Why superbug NDM1 is considered hard-core
)
Indian medical experts say the researchers may have flagged an important emergent problem, but to blame it on India's health system was stretching it too far. Health ministry is now planning to write a strong formal rejoinder to the journal refuting these findings. (
Watch: Superbug report tampered with: Expert
)