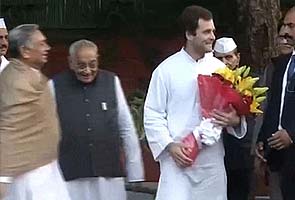 New Delhi:
Congress Vice President Rahul Gandhi has officially taken charge this evening as the party's number 2, saying he intends to practice "positive politics" in an "acrimonious political environment" and has promised not to criticise others.
Before heading into a meeting with party general secretaries and heads of departments at the All India Congress Committee (AICC) headquarters at 24, Akbar Road in New Delhi, Mr Gandhi refused to field questions from reporters, but said that his party, the Congress "is the best instrument for change, the best instrument to bring youngsters into politics and I want to try and use this instrument to bring change and make it accessible to youngsters."
He also said, "Our entire environment of politics is acrimonious - I want to get into positive politics because that will take this country forward."
(Read: Rahul Gandhi speaks to Congress leaders after taking over as vice-president)
For his first day at work today, a relaxed Mr Gandhi wore a white kurta and jeans and sported a stubble. He was greeted at the AICC office by party functionaries with bouquets, shawls and garlands of Gandhian khadi thread.
The 42-year-old MP was elevated to the post at the party's Jaipur conclave held last weekend. As vice-president, he is second only to party President and his mother Sonia Gandhi.
Rahul Gandhi also heads the Congress' election campaign committee and will actively formulate electoral strategies for the Lok Sabha elections scheduled for 2014 and crucial assembly elections in nine states this year.
The only other person to have held the post of vice president of the Congress was Arjun Singh, who was appointed by the then party president Rajiv Gandhi as his deputy in 1985.